This is a Guest Post by Brian Leni P.Eng, founder of Junior Stock Review. Colorado Resources is a fascinating story, this article will tell you all you need to know.  I, Peter Epstein, CFA, MBA, have no prior or existing relationship with any company mentioned in this article.  

Colorado Resources: Position Yourself For Success In This New Gold Bull Market
We're currently in the first correction stage of this new gold bull market. When will we exit the correction? It's hard to say, maybe it's happening now. What I do know, is that we need to take advantage of this weakness in the gold price and the junior market to buy quality companies that will set us up for profits when the market turns up.
With regards to catalysts for a market turn around in the juniors, one thought I have is that it may be brought about by discovery. Over the first 5 months of 2017, we have seen a few hundred million dollars fed into the junior market via financing, setting us up for discovery possibilities as soon as right now, in some explorations camps.
Whether it be in the Urban Barry Camp in Quebec's Abitibi Greenstone Belt or a company in BC's Golden Triangle, discovery excitement is contagious and something that I believe could set the next leg of the bull market on fire.
Today, I have for you a company which is set to bring short term PUSH with a 7500 m drill program on their 30,000 hectare KSP property in BC's Golden Triangle. This company is Colorado Resources – let's take a look!
Colorado Resources (CXO:TSXV)
MCAP – 26.9 million (At the time of writing)
Shares – 94,820,386 (as of April 2, 2017)
Fully Diluted Shares – 112,362,482
Warrants – see corporate presentation or SEDAR for most accurate information. The warrants range from a low of $0.13 to $0.60, with around 2 million expiring in 2017, more than half in 2018, and the remaining 4.4 million in 2019.
Cash – Around $6.5 million, of which $4.3 million is flow-through
Management Ownership – Approximately 6 million shares or roughly 6%
Colorado's People
Colorado Resources is led by President and CEO, Adam Travis. Travis is a geologist by trade and gained his work experience with Keewatin Engineering, the Ron Netolitzky group of companies, and Hunter Dickinson group of companies. This work experience is especially pertinent to Travis' current pursuit, exploration in BC's Golden Triangle.
For those who aren't aware, Ron Netolitzky and his associated companies have a history of success in the mining industry, in particular, within the Golden Triangle. A few of the highlights of his great career are the discovery of the Snip gold deposit and the massive Eskay Creek deposit.
With Travis and Colorado's KSP property in the Golden Triangle, I'm not sure you could ask for better experience than working with Netolitzky.
Also, Travis started his own private company, Cazador Resources. Cazador was focused on the purchase of highly prospective properties which were later optioned by other prominent junior mining companies, such as Skeena Resources and Ascot Resources. This entrepreneurial attitude will translate well in Colorado, as a CEO must have this attribute to be successful.
The strength of a junior company, especially those focused on exploration, is highly correlated to the strength of the team doing the exploring. In Colorado's case, I think this may be the aspect that stands out the most for me, as Travis has surrounded himself with a group of people that have extensive exploration experience in the Golden Triangle, which, most importantly, was successful, and as an added bonus, have worked together in different capacities over the past 20 years.
Beginning with Dr. Jim Oliver, who is Colorado's chief geoscientist. Oliver has over 25 years of experience within the mining industry, having worked for both junior and major mining companies over the course of his career. Most recently, Oliver was VP of geology for the Hunter Dickinson Group of Companies before joining the Colorado team.
Also, Colorado has an extensive technical team which bring an added dimension to this junior exploration company. Here is a comment by Blanchard on the Technical Advisory Committee,
"Our technical advisory team are recognized experts in their respective fields and provide additional expertise in geophysics and geology with projects in this area of BC and these types of deposits.  Adam has been lucky to work with some very accomplished mining people throughout his career.  He spent the early years of his career with Keewatin Engineering (Ron Netolitzky and Larry Nagy) and also spent 5 years with Hunter Dickinson working with some of the best exploration geos in the business.  The relationships he developed and the support of our advisory board has been very valuable to Colorado.  It is always good to get 2nd and 3rd opinions and interpretations of your data.  Our team is as good as you get in this business and they all work very well together."
Technical Advisory Committee:
Mark Rebagliati is a geological engineer with a good portion of his career spent with the Hunter Dickinson Group of Companies. Rebagliati is a Canadian Mining Hall of Fame member.

Charlie Grieg is a geologist who specializes in geological mapping. His career has spanned over 35 years, bringing him around the world to work numerous projects with Agnico Eagle, Yukon Zinc and Nevsun.

David Rhys is a geologist with over 25 years of experience in the mining industry. His expertise is mainly with the interpretation of mine site ore controls and applications of mine geology to local and district scale exploration activities.

Alex Walcott is a geophysicist with 20 years of experience in geophysical surveying and consulting around the world.
BC Politics
For those who don't know, there was a provincial election in BC on May 9th, which the Liberals won, edging out the NDP.  A Liberal win should result in a status quo for the miners, as the party appears to be set on promoting and supporting mining.
In a letter to the honourable Bill Bennett, the Minister of Energy and Mines, BC Premier, Christy Clark, stated,
"Work with the Ministry of Finance and Geoscience BC to establish long-term, predictable funding to foster oil, gas and mineral exploration and development in BC" ~Minister Letter
Further, BC Hydro completed the $716 million Northwest Transmission Line Project (NTLP), which was provided by the province to supply power to potential industrial developments in northern BC. The new line runs from Skeena Substation north to a new substation near Bob Quinn Lake, a stretch of nearly 344 kilometres (BC Hydro) (Power Line Geography).
Typically, energy and accessibility are major sticking points for companies that explore in some of the more remote parts of the world. In BC's case, they are trying to remedy this sticking point by providing the infrastructure needed for junior companies to become producers or, more importantly for the provincial government, to become large employers.
Tahltan Territory
On January 26th, 2017 Colorado announced a communications agreement with the Tahltan Central Government (TCG).  The TCG is the governing body of the Tahltan Nation, which works to protect the Aboriginal rights and title, ecosystem and natural resources of the Tahltan community.
Tahltan territory encompasses 93,500 square kilometres in northwestern BC, running parallel to the Alaskan/Canadian border. Their three main communities are Telegraph Creek, Dease Lake and Iskut.
I was able to connect with VP of Corporate Development, Alex Blanchard, and asked him a few questions, one of which was in regards to the TCG. This was his response,
"We have a very good relationship with the TCG and signed a communications agreement with them in January.  Pretivm has worked closely with the TCG through mine development and they have a good working relationship.  I see a strong working relationship between Colorado and the Tahltan in the future."
The engagement of the TCG well before the development of a mine in the area is a smart move by Colorado management, as a relationship started early on with full disclosure should build trust and, therefore, in my mind, has a higher probability of success in the future.
Colorado's Properties
For this article, I will concentrate on what I think are Colorado's primary projects, KSP, North ROK and Green Springs. Colorado does own 4 other projects in BC, which are Kinaskan, Kingpin, Hit and Heart Peaks.
The KSP property is located in BC's northwest region, referred to by most as the Golden Triangle. The property is made up of 59 claims covering 30,504 ha and is located approximately 15 km along strike to the southeast of the past producing Snip Mine, which produced over 1 million high grade gold ounces over its mine life.

Colorado has the ability to gain an 80% interest in the property with Seabridge Gold, who purchased SnipGold Corp last summer.

In a

 December 20, 2013 

news release, Colorado announced they had entered into the agreement with SnipGold for the KSP property. The option agreement included aggregate payments by Colorado of $500,000 and exploration work of $6,000,000 over a 4 year time period for a 51% interest.
The KSP property is large and diverse as Colorado is targeting both high grade gold veins within the Inel Khyber Pass and A-J zones, and bulk tonnage copper-gold mineralization within Sericite Ridge, Josh and Black Bluff zones.
There's a good amount of historical data that's presented in the May 7th, 2014 news release, outlining the important data that had been compiled by the former explorers of the property.  I will list the data presented for the two most explored zones, Inel and Khyber Pass:
Khyber – 1100 soil samples over a 400m x 1200m open ended area averaging 0.810 g/t Au – great grade for a soil sample

Khyber – drill testing over a small portion of this soil anomaly returning drill intervals of up to 74.7 m of 2.2 g/t
Inel – 1,240 m historical underground development, 192 holes with drill intercepts up to 15.5 m of 13.2 g/t Au. High grade intercepts – S116 (1989) with 7.3m of 20.93 g/t Au; U171 (1990) with 7.4m of 41.1 g/t Au and IS130 (1989) with 3.5m of 423.81 g/t
Inel Ridge (500m east of Inel) – veins traced for over 1000 m with drill results up to 29.8 g/t Au over 1.25 m
Check out the KSP page of the Colorado website for further examples of historical drills on the properties' other zones: Tami, Pins, Sericite Ridge, Josh, Black Buff and A-J.  Also, see SEDAR for further details on historical data.
KSP work completed by Colorado can be found in the following news releases (See SEDAR for the most comprehensive list of news releases):
Through the analyzing of historical data and completing their own geophysics and soil sampling, the Colorado team developed targets for their drill programs. In the summer of 2016, 59 holes were drilled for a total of 8,861.8 metres between the Inel, Tami and Khyber Pass zones.
53 holes were drilled at Inel, with hole INDDH16-029 delivering a hit of 1.0m of 165.5 g/t Au and broad low grades which included, hole INDDH16-025 with 99.0m of 2.11 g/t Au.
On May 11th, Colorado released their plan for the KSP's 2017 summer drill program and have confirmed that they will be drilling 7,500 m which will result in them spending the remaining $4 million dollars on the property to gain an 80% interest. I believe this is a big milestone in Colorado's history, as the KSP property has a ton of potential, potential which I believe a major will have interest in, especially now that Colorado looks to control 80% of the property.  I would speculate that you could see a major buy a position just under 20%, like so many have been doing in this market cycle, but time will tell.
From the news release,
"A review of the 2016 geochemical data when referenced to last year's drill program has shown that there are at least 10 soil geochemical anomalies of similar size and strength in the Inel –Khyber area (see News Release dated December 19, 2016 and Table 1) of which only one was tested by our 2016 drill program to shallow depths of approximately 125 m. Reviews of geological and geochemical data along with new geophysical Induced Polarization (I.P.) and Magnetic data have recently been completed and are showing some very compelling targets at depth and along strike of our 2016 drilling."
Travis comments further in the news release about the mineralization,
"Our 2016 drilling also demonstrated that gold mineralization is not only restricted to the volcanic-sediment contact as previously thought, but is also found within the underlying sedimentary rocks, thus opening up a considerably larger target area. The current geological, geochemical data and geophysical models are also suggesting that the known mineralization outlined over a 400 m x 600 m area in our 2016 drilling is perhaps only a small portion of a much larger system."
PUSH: This summer's drill program, if successful, will provide some PUSH to the company's share price, and for good reason – bigger is better.  The IP and magnetic data are showing some great prospects, especially when compared to where they drilled in 2016, see image below.
The North ROK property, like KSP, is located approximately 190 km north of Stewart in the Golden Triangle, in BC's northwest. The property consists of 45 claims and is 21,179.89 hectares. Colorado owns 100% of the property, however, some of the claims are subject to a 2% NSR (see SEDAR for further info).

Travis' past at Brett Resources is tied to the North ROK property, because in 2009, while working for Brett Resources, he staked the claim that covers the current Mabon showing. Brett Resources proceeded to carry out initial exploration of the claim, which consisted of silt sampling, prospecting and contour line controlled rock chip sampling.

The property is underlain by volcanic and sedimentary rocks of the Upper Triassic, Stuhini Group to Lower Jurassic, Hazelton Group.

Accessibility to the property is outlined in the NI 43-101 Technical Report,
"Access to the North ROK property is usually gained by taking Highway 37, commonly referred to as the Stewart-Cassiar Highway, north from Smithers or by taking a scheduled air flight from Smithers to Dease Lake. Property access to lower elevations is obtainable by truck or car from Highway 37 which passes through the western portion of the property. The extreme southeastern part of the property can be accessed by truck or car from the gravel, Ealue Lake road which passes along the north-shore of Ealue Lake in a north-easterly direction. The upper portions of the property are most easily accessed by helicopter." ~Technical Report – pg.8
Targeting Porphyry Copper-Gold
Colorado is targeting porphyry copper-gold on this property and has an inferred resource, which currently sits at 142.3 million tonnes, averaging 0.22% Cu and 0.26 g/t Au. The NI 43-101 report can be found here.
"Based on the results of the 2013 exploration program at North ROK, a two phase 15,000 m success-contingent drilling program is recommended. It is also recommended that a downhole IP program be completed prior to the initiation of Phase 1 drilling. Phase 1 is divided into two non-contingent components. One 7000 m drilling component to focus on delineating the full extent of the North ROK deposit and another 3000 m drilling component to test other geological, geochemical and geophysical features including the West Mabon, Edon, Lower Mabon and North Mabon zones. A proposed Phase I budget of C$3,250,000 inclusive of all auxiliary, technical and support costs is recommended. The Phase II 5,000 m drilling program is contingent upon success at either or both of the two Phase 1 components and is budgeted at C$ 1,625,000 and will be guided by the results of the preceding drilling programs." ~ Technical Report – page 3
In 2014, Colorado followed these recommendations and succeeded in:

Intersecting new mineralization at the West Mabon Zone

Establishing significant depth potential and continuity of gold-copper mineralization over 250m below mineralization in DDH NR13-001

Defining the broad, deposit scale geometries and controls on mineralized zones

Extending mineralization southwest of DDH NR13-013

Testing of other Areas
BC Copper Grades
BC has a history of producing copper, with 13 Mt being produced between 1894 and 2014. 90% of that production came from 15 deposits, which were calcalkalic porphyries, alkali porphyries and VMS deposits.  Today, 0.3 to 0.4% copper is widely held as a gauge for an economic grade, however, when examining BC's producing mines, you will see that the grades are lower yet still economical.  Mines which have grades in the 0.2 to 0.3% copper, typically have additional help from moly, gold or silver credits, which can make or break a mine. This is a point that needs to be considered when examining deposits that depend on credits from secondary metals, as base metal prices and precious metals prices don't always coincide with upwards trends or generally high prices.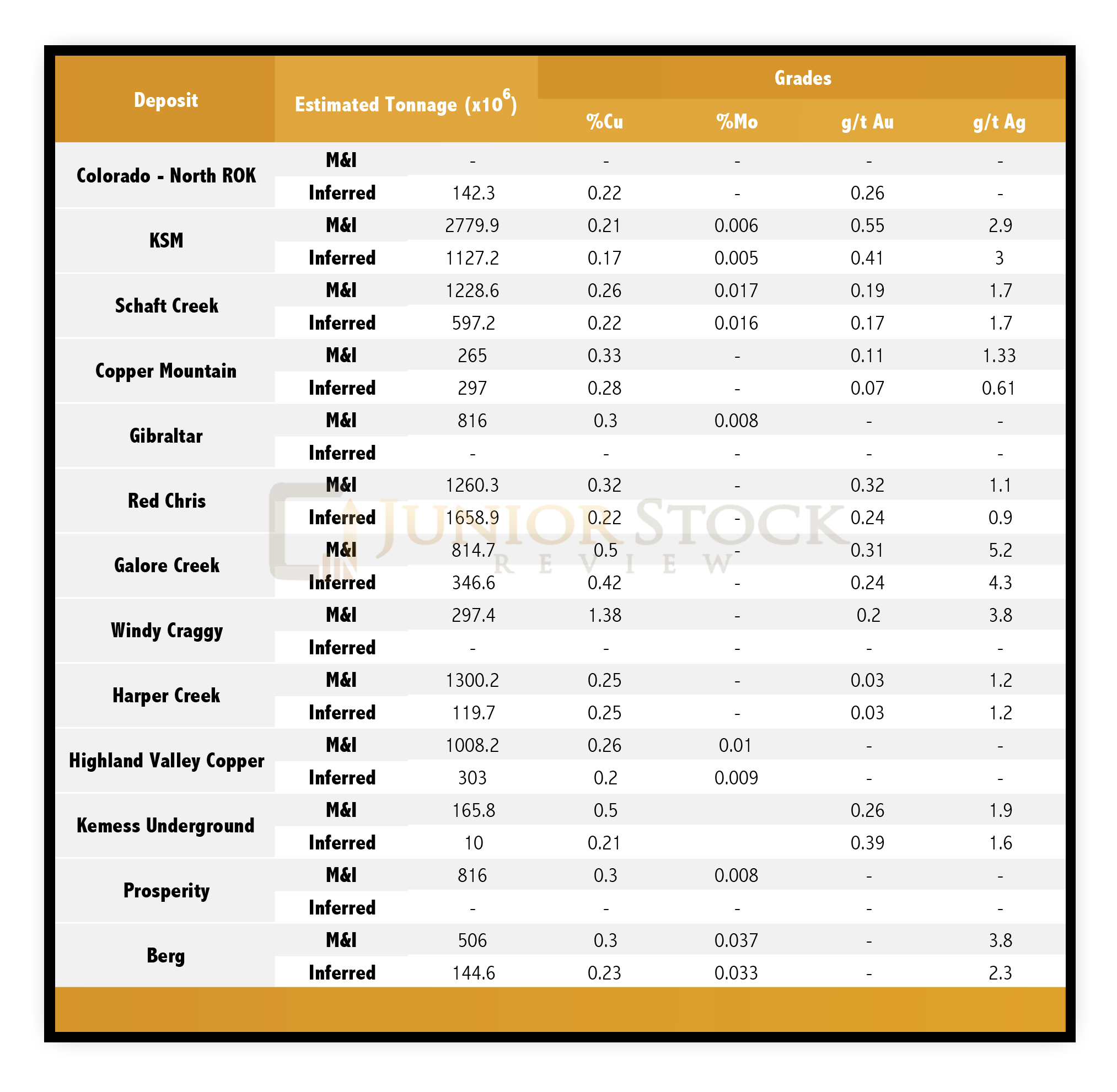 Source: BC Ministry of Energy and Mines
Examining the table, you can see that the grades of Colorado's inferred resource are pretty good, the biggest difference right now is the size.   North ROK won't see any drilling as it stands right now, as the main focus in the Golden Triangle this summer will be KSP.
ROK-Coyote Property Acquisition
On March 13, 2017 Colorado announced the purchase of the ROK-Coyote property from Firesteel Resources. The property lies south and east of North ROK, greatly expanding Colorado's prospective land size. Firesteel received 1.5 million units of Colorado, with consist of both 1 common share and 1 common share purchase warrant at a price of $0.45 for a period of 24 months. There is a 2% NSR on the property, see news release for further details.
The property has been explored since the late '60s, with geological mapping, geochemical surveys, grid-based geophysics, surface trenching and some drilling (see news release for more detailed information).  I believe Travis and his team are in a great position to explore and advance the ROK-Coyote effectively, as their experience not only in the Golden Triangle, but specifically on the North ROK property, has set them up well for being as efficient as possible in choosing the right targets to find mineralization.
As you can see in the image above, North ROK's existing mineralization is found right on the border of the two properties, and it's thought that it may continue into the ROK-Coyote property. If the mineralization does continue and it's of a similar grade, this could be game changing because an increase in the size of this porphyry system would really bring attention to this deposit.
Nevada
Nevada has a long history of being a mining friendly state and ranks 4th in the world according to the Frasier Institute's ranking of the most attractive jurisdictions for mining investment. Some quick facts from the Nevada Mining Association:
Nevada's production accounted for 77.6% of the United States' total and 5.4% of the World total gold production.

2015 Gold Production Totalled 5,339,663 Troy ounces

119 mines in Nevada

Nevada Mining Gross Domestic Product – $4.6 Billion
Nevada is a hot bed for gold production – and for good reason. The state is home to Carlin Trend gold, which is characterized as typically hosting large oxidized ore bodies, which can be open pit mined and with low gold cut-off grade (<0.2 g/t). All of these attributes spell cheap gold production for the lucky company that finds it, which is key to making money in both a bull and a bear market.
One final thing on Nevada, Green Springs diversifies Colorado's property portfolio out of BC, which, prior to knowing the outcome of this provincial election, was a great move in my mind, and shows that management is cognizant of jurisdictional risk.
Green Springs
The Green Springs Property consists of 193 unpatented claims covering 1,416 hectares, and sits approximately 50 miles south of Kinross' Blad Mountain/Alligator Ridge Mine.  Colorado announced the optioning of the property last December from Ely Gold and Minerals. The option terms can be found in the news release.
Green Springs is a past producing property, having produced 1.1 million tons @ 2.1 g/t gold, which was heap leachable at an over 80% recovery.  Following USMX's operation of the mine, it was further controlled by Palladon Ventures, which produced a 43-101 report in 2005, and then Ely Gold and Minerals, which has owned the property since 2013.
Colorado's Work
Colorado was able to outline 8 exploration targets based on historical data, and completed a drill program in the first part of this year, 2017. Drill results were released on April 4, 2017 and were highlighted by intercepts of 135 ft of 3.23 g/t gold, 25 feet of 9.75 g/t gold in the E Zone.  From the news release in reference to the E Zone,
"These results confirm our concept that high grade feeder structures may exist to the south of the old pits and that mineralization can extend into the underlying Joana limestone."
Further, the company highlighted work in the A zone to which they say, in reference to the drill results,
"These results confirm our premise that rocks mapped as the underlying and un-mined Pilot Shale have the potential to host significant gold mineralized zones at relatively shallow depths."
In my discussion with Travis, he mentioned that they were sending their geological team to Green Springs for further work and preparation for further exploration this fall. The Green Springs property will bring Colorado year-round news flow and presents great speculative upside given the nature of the Nevada geology.
Colorado Resources' Company Valuation
At the time of writing this report, Colorado had a MCAP of around $25 million.  Is that over-valued, under-valued or fair valued? Valuing companies at this stage in development isn't easy, in my opinion, as we will be assigning value to a property's potential rather than with an actual measurable resource, excluding North ROK, which does have an inferred resource.
A base value for a company can be found by looking at the liquidation value of their properties. Meaning, if the company were to stop exploring and sell their properties at this moment in time, how much money could they get? This isn't an exact science, as all of the properties aren't exactly alike and their selling price has a lot to do with where in the market cycle they are being sold.
For comparison purposes, let's take a look at Seabridge Gold's purchase of SnipGold in early 2016.  From Seabridge's Annual Report 2016,
"SnipGold common shares received 1/63rd of a common share of the Company in exchange for 1 SnipGold common share held. 695,277 common shares of the Company were issued to existing SnipGold shareholders. The Company also issued 54,968 stock options and 1,587 warrants to existing SnipGold holders of similar securities. The fair value of the shares, stock options and warrants was $13.1 million. The Company also incurred $1.7 million of acquisition costs. The total purchase price of $14.8 millionhas been allocated to the assets acquired and the liabilities assumed based on the fair value of the total consideration at the closing date of the acquisition." ~ Annual Report 2016 – pg.43
The acquisition by Seabridge was aided by the bottom of the bear market cycle, which made it hard for SnipGold to find financing. SnipGold isn't a perfect comparison, but is a stone's throw from Colorado's properties and has similar geology, IE speculative upside.  Fast forward a year into the new bull market cycle and SnipGold is probably financed easily on its own, or is sold for more than the $15 million in this transaction.
If we assign this value to Colorado's properties, which I think is really under selling what they have, and add their $6.5 million in cash, you have $21.5 million which is just below their current MCAP. Therefore, without even getting into where we are in the bull market cycle and the speculative upside of their properties, you are basically buying Colorado for the liquidation value right now – not many companies can say this.
While, for me, the liquidation value comparison is solid and enough for me to make a decision, for those who want a little more, let's take a look at one more comparison; neighbouring Skeena Resources, which is a great comparison from a geological sense.
To begin the comparison, I'll start with the copper-gold porphyry deposits' Spectrum and GJ, which have resource estimates. Referring to the Spectrum Technical Report, page.8,
"NSR AuEq Cut-off (g/t) – 0.5, tonnes – 8,590,000, Au – 1.04 g/t, Ag – 6.58 g/t, Cu – 0.11%, AuEq – 0.87 g/t – Therefore contained metal – Au – 290,000 oz, Ag – 1,820,000, Cu – 20,835,000 lbs – Indicated Resource… NSR AuEq Cut-off (g/t) – 0.5, tonnes – 22,630,000, Au – 1.03 g/t, Ag – 3.85 g/t, Cu – 0.11%, AuEq – 0.85 g/t – Therefore contained metal – Au –750,000 oz, Ag – 2,800,000, Cu – 54,889,000 lbs – Inferred Resource"
Referring to the GJ Technical Report, page.5,
"Cut-off Cu % – 0.2, tonnes – 133,670,000, Cu – 0.32 %, Au – 0.36 g/t – Therefore the contained metal Cu – 940.23 million lbs, Au – 1.56 Moz – Measured plus Indicated Resource…Cut-off Cu % – 0.2, tonnes – 53,690,000, Cu – 0.26%, Au – 0.33 g/t – Therefore the contained metal – Cu – 312.54 million lbs, Au – 0.57 Moz – Inferred Resource"
How does Colorado's North ROK compare? Here is a look at the 43-101 resource estimate. Referring to the Technical Report, page.2,
"Cut-off CuEq % – 0.20, Tonnes – 142,300,000, Cu – 0.22%, Au – 0.26 g/t, CuEq – 0.37% – Therefore contained metal Cu – 690,297,300 lbs and Au – 1,189,512 oz – Inferred Resource"
As you can see from the Technical Report data, Skeena's resource estimates are more developed and larger than that of Colorado's North ROK.  Skeena's current MCAP, at the time of writing this report, is around $35 million, this valuation isn't just based off of their resource estimate, but also the speculative value of their other properties.
Is Skeena worth more than Colorado? It's up for debate, but I would say that from this perspective, Colorado is at least fair value. Personally, I think they're both on the undervalued side in comparison to other junior companies, given what they have and their speculative upside potential and the management teams that are leading them. With the BC provincial election behind us, I think these companies will see their share prices rise as their value becomes more apparent.
In conclusion, like any exploration company, there are a lot of questions that need to be answered, and answered with good results. As we all know, in mining, the odds are stacked against us in terms of finding economic mineralization. However, I believe that Colorado Resources is a company which strengthens your odds of success because they possess the most important aspects of a junior miner.
They have:
CASH – roughly $6.5 million

A management team which has the knowledge and  X-Factor experience for exploration within the Golden Triangle

Multiple district scale land packages with speculative potential – similar geology as some of the area's most prolific mines and deposits: Eskay Creek mine, Snip mine, Pretium's Brucejack Deposit and Seabridge's KSM Deposit.

Short term PUSH from a 7500 m drill program at their highly prospective KSP property
You be the judge as to whether Colorado Resources fits your individual investment criteria. For me, they're a welcome addition to my speculative portfolio!
Brian Leni  P.Eng
Founder – Junior Stock Review
Disclaimer: This is not an investment recommendation, it is an investment idea. I am not an investment professional, nor do I know you and your specific investment criteria. Please do your own due diligence. I have NOT been compensated to write this article and do NOT have a business relationship with Colorado Resources. However, I do own shares in Colorado Resources. Please check SEDAR for the most accurate data regarding Colorado Resources information and analytics.