The following commentary & interview was done by Dr. Allen Alper of Metals News. Dr. Alper and Peter Epstein (me) of Epstein Research both work with Delrey Metals, helping them advertise their compelling story. Please see disclosures at the bottom of the page.
Delrey Metals (CSE: DLRY, FSE: 1OZ) is focused on sourcing, financing and developing undervalued, strategic energy metals assets. We learned from Morgan Good, Founder, President & CEO of Delrey Metals. They own four vanadium projects and one cobalt project. The Company's main focus is on vanadium. According to Mr. Good, the vanadium sector is expected to increase in size, demand, and value over the coming year.
All four of Delrey's vanadium properties are located on tide water in BC and have exactly the types of geology and historic exploration results geologists want to see for further exploration when looking for potential deposits. The company plans to kick off 2019, with an exploration program in February, starting with geophysics and airborne magnetics, followed by fieldwork and drilling. Delrey's Sunset cobalt property is an early stage project, with a 43-101 resource and an NSR of 2% owed to Cobalt 27.

Delrey Metals
Dr. Allen Alper: This is Dr. Allen Alper, Editor-in-Chief of Metals News, interviewing Morgan Good, who is Founder, President and CEO of Delrey Metals. Could you give our readers/investors an overview of your Company, your focus and current activities and the vision you have for Delrey Metals and your plans.
Morgan Good:Sure. Thank you so much for the introduction and interview for Metals News, Al. It's nice to be here. The overview and main focus of our new, recently IPO'd, Delrey Metals Corp., is to focus on the burgeoning strategic battery energy metals sector. We find the sectors such as vanadium in particular, lithium, cobalt and others very exciting and that's where our focus will be. Certainly for 2019 and 2020 and beyond.
Dr. Allen Alper: Sounds excellent. I know you have several vanadium projects and you also have a cobalt project. Why don't you update our readers/investors on why vanadium is so important that Delrey Metals has put so much emphasis on looking for cobalt properties?
Morgan Good: Sure. Well the cobalt project, which I'll start with, is actually the Sunset property that we initially launched with as our qualifying asset, when we went public on the CSE. It's a fairly early stage project with an NSR of 2% with Cobalt 27, which as you know is a fairly significant company.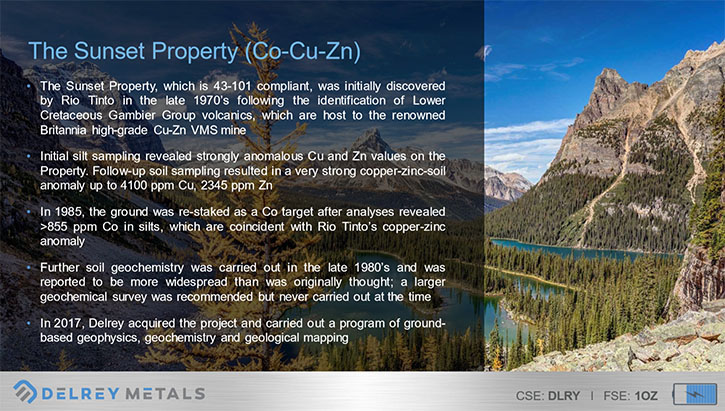 Dr. Allen Alper:Metals News did many articles on Cobalt 27, magnificent company.
Morgan Good:Absolutely. As you know, going public on the CSE requires a 43-101 compliant property and the Sunset obviously was an above average project for this. Since the IPO our main focus and intention is to look into the vanadium space as it has been one of the best performing metals in its peer group. In the last 12 months I know you covered the industry leader Largo, whose Board you also served on. You've also covered other explorers, such as First Vanadium in Nevada with their project. It's been extremely exciting to watch these stocks perform, to watch investors make money and see such opportunities of liquidity and enhanced value.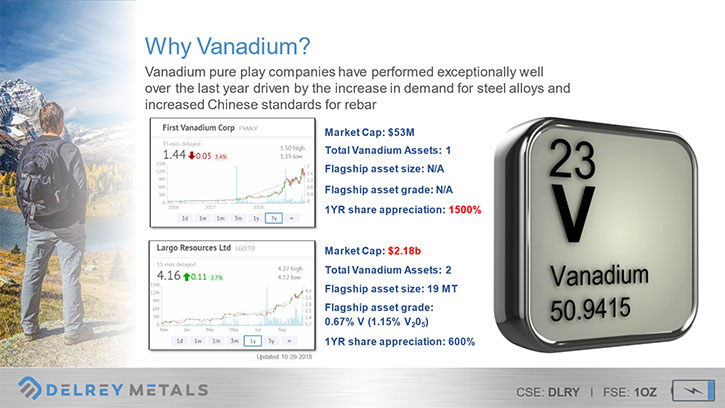 So that's really what drew us towards the vanadium space in particular. Then of course there's the obvious, the new demand that's been coming mainly out of China and the new standards that they've brought on board by their government for the use of more vanadium within the steel rebar construction alloy.
Businesses such as infrastructure building and things of that nature and then of course, lastly, you have the growing vanadium redox battery adoption, which is still very young. I think that's going to be a tremendous catalyst in seeing this vanadium sector increase in size, demand and value over the coming year.
So for all of those reasons, we've found the vanadium space to be an extremely exciting and important place to go for junior companies such as Delrey.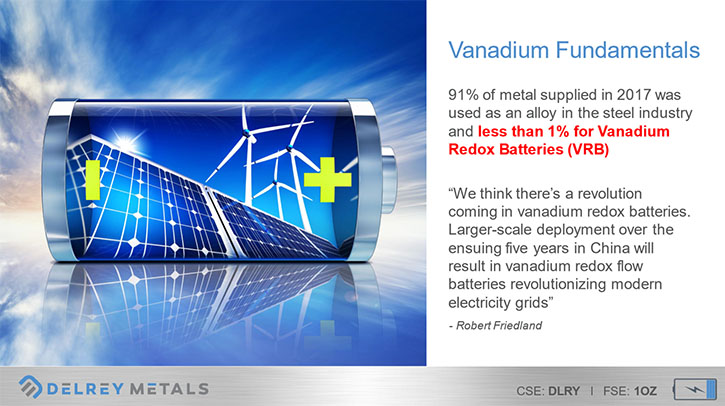 Dr. Allen Alper:That sounds excellent. Could you highlight some of the vanadium properties that you're exploring at the present time?
Morgan Good:Sure. We recently acquired 100% ownership of four projects, all on tide-water in British Columbia. We have the Star property, the Porcher property, the Blackie property and the Peneece property. Some are on small islands on the British Columbia coast. They all have titaniferous magnetite and have vanadium enriched geology. People weren't really looking at vanadium back in the 70's, 80's and 90's, early 2000's, they were looking for things like titanium and iron ore. Vanadium wasn't on the radar at that time.
Obviously things have changed, as you and all your readers/investors would know. That's precisely the type of geology you're looking for and where you'll often find strong vanadium values, so each one of the projects merits those characteristics. We're kicking off our 2019 exploration program in the month of February, with some geophysics and some airborne magnetics. Subsequently, with those results, we are hopeful to get on the ground and follow it up with some fieldwork and, of course, some drilling.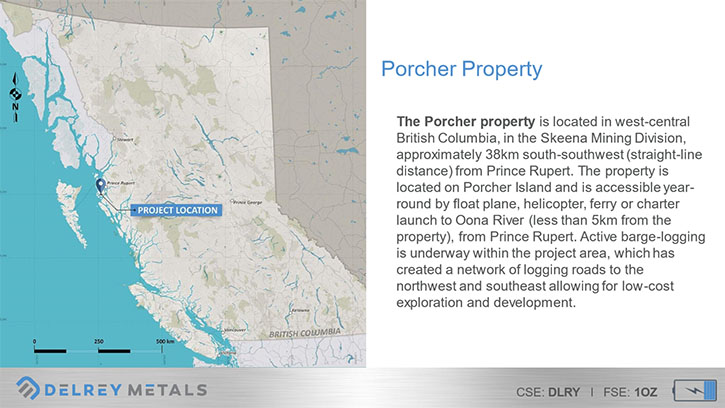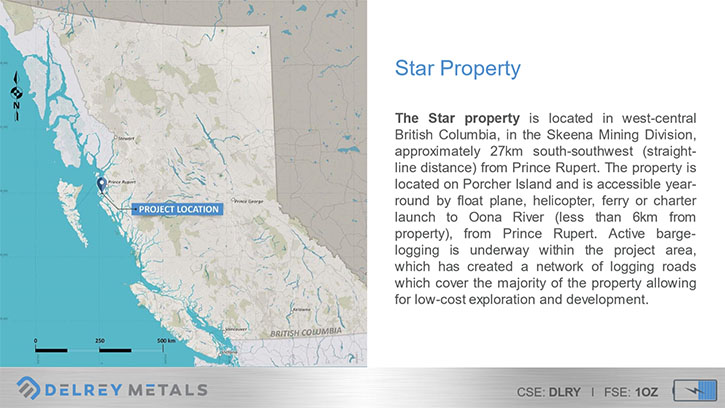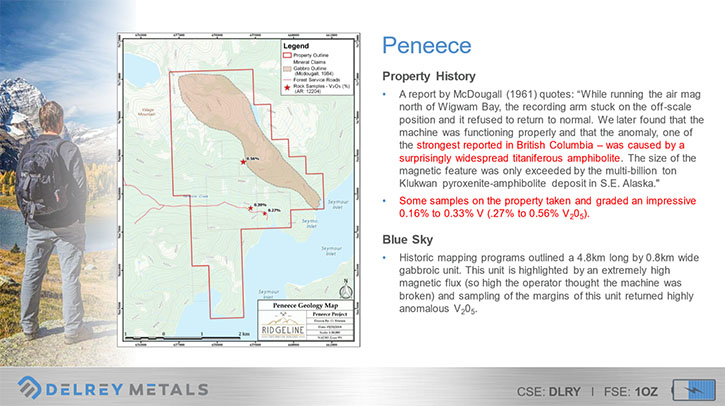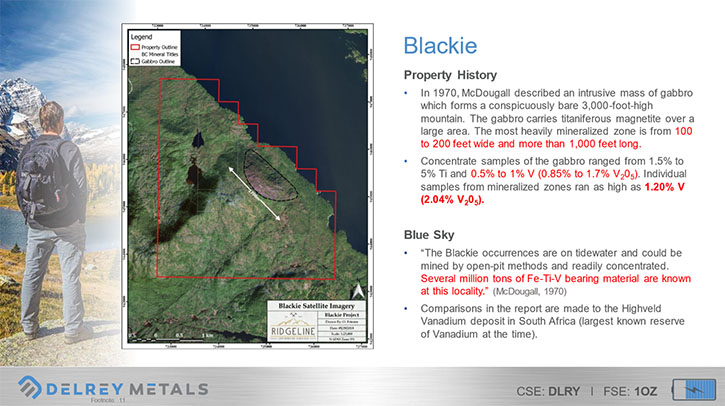 Dr. Allen Alper:That sounds excellent! Could you tell our readers/investors a bit about your background and your management team?
Morgan Good: Absolutely. I am born and bred into a stockbrokerage family as well as a broadcasting family. My grandfather and uncle and even father were all broadcasters in Canada both for news and sports. Several of my uncles and cousins were all stockbrokers at various Canadian broker dealers, mainly Canaccord during the 70's, 80's and 90's.
It wasn't hard for me to figure out what I was interested in doing, as I was a young man and graduating from school. I pursued my Canadian securities licenses and subsequently got into investor relations and corporate development work in my twenties. Later after that I started joining the board of directors of various publicly traded mining companies assisting in capital raising as well as marketing and promotion of companies in order to grow the audience, increase liquidity and adding value for shareholders. That's what I enjoy doing, is getting out and building a story.
That's my background.
Mr. Michael Blady is a director of Delrey. Michael has a similar background as I, in that it's capital markets focused, but he also is a well regarded geologist and has other companies that you would obviously know quite well, such as Golden Ridge Resources, which has recently made a major copper-gold porphyry discovery in the Golden Triangle, late in the summer of 2018. Michael has a tremendous technical background as well as solid understanding of the financing of junior resource companies.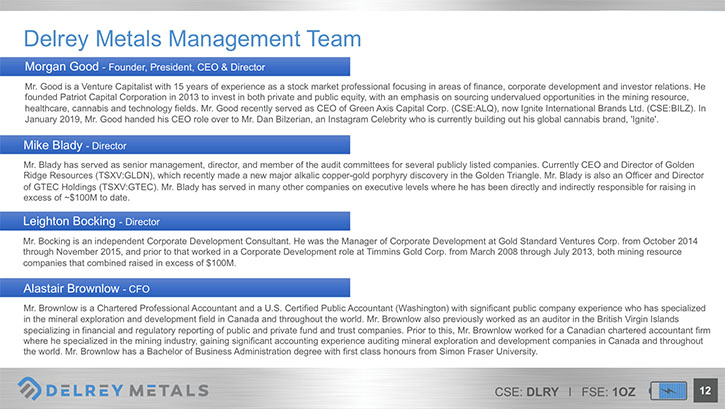 It was Michael and I, who originally put Delrey together, built it from a private company and took it public.
The other member of our board is a gentleman named Leighton Bocking. Leighton, as well as Michael and I, has a very extensive financial and capital markets background. He was part of Timmins Gold Corp. from a CPC stage right up to production. He spent the better part of ten years working with that company, as well as spent several years with John Awde at Gold Standard Ventures, which is a significant company, with assets in Nevada and the Carlin Trend.
We have a very well maintained and well supported financial cast of characters. We're all in our late-thirties, so a young, youthful group of people, but collectively we have nearly 50 years of professional experience. Certainly, we have the ability among our group to raise significant capital. We've not only spent time on resource companies, but we've have worked in different sectors as well such as some cannabis focused companies. We have been around many companies and raised tens of millions of dollars.
So kicking off a nice, young company such as Delrey has actually been a lot of fun and I think we paved the way for what can be a very bright future, with our group.
Dr. Allen Alper:That sounds excellent. I'm just about to publish an article on Golden Ridge. I'm , very impressed with Michael, his company and his ability. So I'm sure he's an asset to your company.
Morgan Good:No question.
Dr. Allen Alper:Could you give our readers/investors some background on your share structure and your capital structure?
Morgan Good:Absolutely. I think this is just as important as any other major factor. Even if you have great assets and great people, it can be very difficult to move in these markets if you don't have a well-capitalized and well-structured entity. Delrey is obviously public now and has been for a few months. We have 33-and-a-half million shares issued today, with just under $1.5 million in the treasury in hard cash and no liabilities.
What I like about our structure, is between Management and the Board we own approximately 15%. About a dozen or 15-strong partners and affiliates that have assisted us from day one, own another about 50 or 55% of the company. That brings us to about 70% of issued outstanding with a very short list of allies including Management.
On top of that we went a little old school in that we had two broker dealers, basically warehouse a strong majority of all of the shares on their book. So not to say that shareholders can't do what they please with their stock, but it certainly makes it a lot more manageable.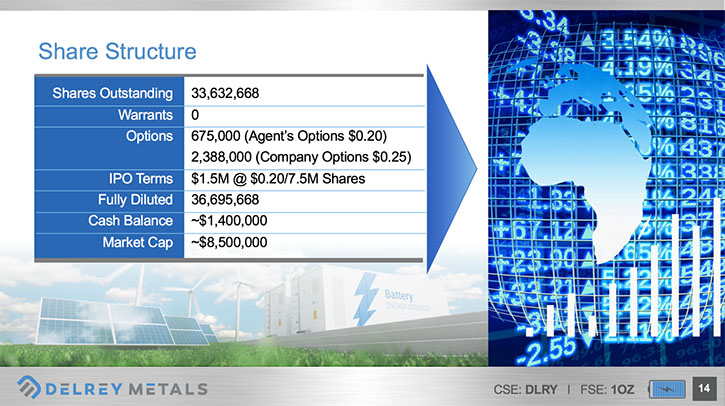 It certainly keeps a much more orderly market, a much more organized path forward and allows us to do the things, like raising more money and marketing our story and seeing results that we'd like to see.
Dr. Allen Alper:That's very good. What are the primary reasons our high-net-worth readers/investors should consider investing in Delrey Metals?
Morgan Good:We have a great young, aggressive group with a lot more experience. We have an extremely well-capitalized and well-structured issuer with just over 30 million shares out, with a majority of it being well-maintained with just a couple of broker dealers, we have all the money we need for the near future to launch into this exciting new space of energy metals, in particular vanadium.
In my opinion this year, 2019, is going to prove to be the best year ever for the sector and if we can get out there and work on the projects we have, and we close on one of the more advanced assets we are currently in late stage due diligence on, I think that the fundamentals of Delrey are highly compelling to potential new shareholders.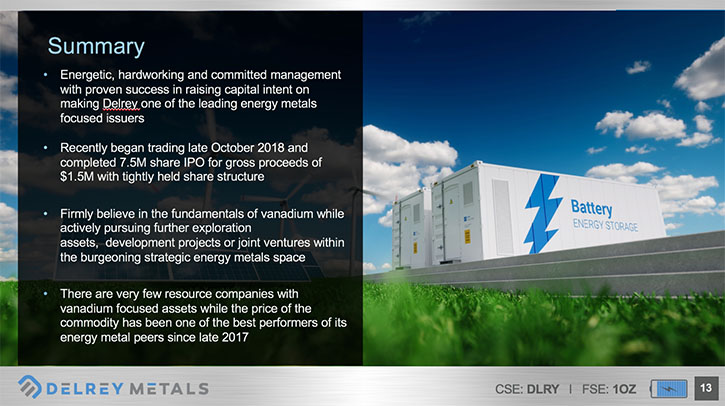 Dr. Allen Alper:Those are definitely compelling reasons to consider investing in Delrey Metals. Is there anything else you'd like to add, Morgan?
Morgan Good:I will touch on one last point. Another important reason to invest in Delrey Metals is that we like to pride ourselves on shareholder liquidity and allowing people to buy and sell our stock. We're certainly going to make sure we market and build an audience for that very reason, so investors are not going to find themselves buying the shares of Delrey and then having trouble selling them.
We're going to be busy, we're going to be active, we're going to be on the road, we're going to be growing our shareholder base constantly, every day, every week, every month and, I think, that you're never going to be bored or find yourself in an uncomfortable position owning our shares, especially considering there are really only a handful of comparable issuers with a focus on vanadium in particular.
So stayed tuned. We are working on something quite significant to bring into the fold. People want to make sure they're on board before that happens.
Dr. Allen Alper: That's great. That's wonderful to know that management has skin in the game. I've talked with Rob Mc Ewen, many times. He's invested along with his investors and earns his money, in a way that they are now going to, by appreciation of the stock. So that's excellent. It sounds like you and Rob think the same way.
Morgan Good:Wonderful. That's great to hear.
Dr. Allen Alper:Excellent! We'll p ublish your press releases as they come out so our readers/investors can follow your progress.
Disclosures for Dr. Allen Alper and Metals News:
Disclosures for Peter Epstein and Epstein Research:
At the time of this Guest Post, Delrey Metals was an advertiser on Epstein Research