The following CEO interview of Sam Spring of Kincora Copper [TSX-V: KCC] / [OTCQB: BZDLF] was conducted solely by Dr. Allen Alper of Metals News. This is a guest post on Epstein Research. Peter Epstein & Epstein Research had nothing to do with the questions, answers, editing or distribution of this interview. The views, opinions & reported facts contained herein are entirely the responsibility of Dr. Alper & CEO Mr.Sam Spring.
Dr. Allen Alper, PhD Econ. Geology & Petrology, Columbia Univ., NYC, USA

Kincora Copper Ltd. (TSX-V: KCC) has consolidated the dominant land position in the emerging Southern Gobi copper-gold belt of Mongolia, along strike and in between two large-scale, world-class porphyry projects – the Oyu Tolgoi mine, operated by Rio Tinto, and the Tsagaan Suvarga Serven Sukhait, open pit, development project. We learned from Sam Spring, President & CEO of Kincora Copper, that they are about to start testing multiple drill-ready copper porphyry targets on their two projects: Bronze Fox and East Tsagaan Suvarga, with five large independent priorities. With one of the best technical teams in the industry, Kincora with anyone of these five targets is looking to make the first globally significant discovery in the industry since 2014.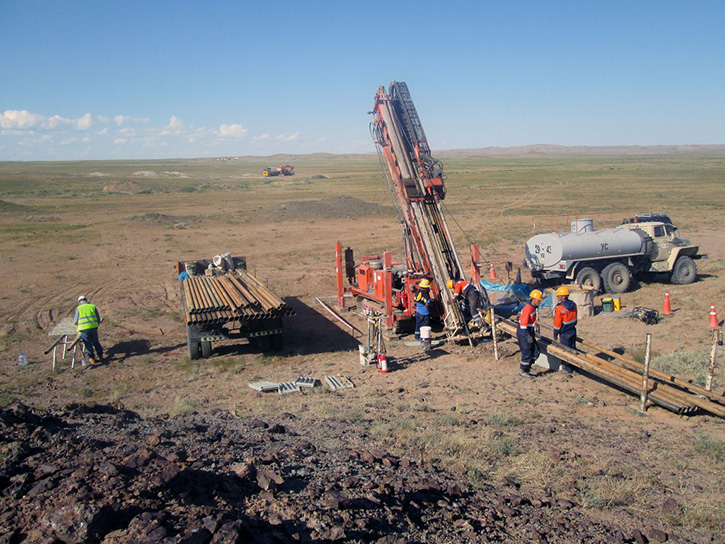 Kincora Copper Ltd.
Dr. Allen Alper: This is Dr. Allen Alper, Editor-in-Chief of Metals News, talking with Sam Spring, who is President & CEO of Kincora Copper. Could you give our readers/ investors an overview of your Company?
Sam Spring: Absolutely, Allen, and thank you for taking the time and reaching out to interview Kincora Copper for Metals News.

Kincora's been active in Mongolia since 2010/2011. We have the dominant position in the Southern Gobi copper belt, which most of your readers would probably know for Turquoise Hill's mining & expansion project Oyu Tolgoi, which was discovered by Robert Friedland. Turquoise Hill was previously known as Ivanhoe Mines. That project is the largest expansion project anywhere in the world in the hard rock space at the moment. 
Oyu Tolgoi has been in production from the open-pit since 2012. It's operated by Rio Tinto, that has control of Turquoise Hill and has an excellent safety record – best in the Rio Tinto group last year – and is currently expanding the underground project that will support that mine being potentially the third largest copper mine with 100-year mine life in about five years' time. There are currently 17,000 people at its site (94% being Mongolian) with direct & indirect employment estimated at over 55,000.
Quite often investors ask us about Mongolia as a jurisdiction. With Oyu Tolgoi there is clear proof of concept of being able to discover, permit and build world-class projects, in an industry where there have been fewer Tier 1 discoveries and new large-scale greenfield development projects commissioned in the last couple of decades.
And we're looking to find the next major project in this proven but underexplored copper belt.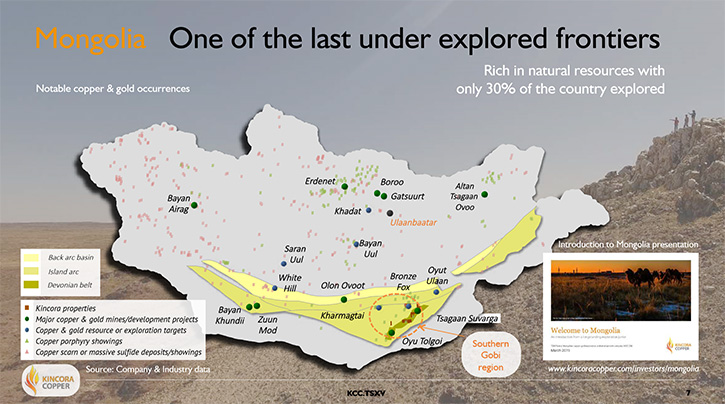 Dr. Allen Alper:My understanding is your team knows that area very well.
Sam Spring:That's correct. We originally started with our flagship project, Bronze Fox, which attracted me to the Company when Kincora drilled a thousand meters of lower grade copper, but with 37 meters of > 1% copper equivalent, within that. Seeing that interval of lower grade, with the higher-grade element is very interesting for copper porphyries, often you don't see that higher-grade tenure and the size of the mineralized footprint is extensive.
During the downturn, with copper around $2/lb., we're able to consolidate the dominant position in this belt, doing a merger with IBEX, which was indirectly controlled by High Power Exploration (HPX), of which Robert Friedland's the Chairman & CEO.
Off the back of doing the IBEX deal, and restoring full access to Bronze Fox and where we had the high-grade interval, we attracted an extremely strong technical committee and team.
This is lead by John Holliday, as Chair of our technical committee and on our Board. John is credited with the discovery of Cadia for Newcrest and played a key role in their exploration strategy during a period particularly where Newcrest was globally recognized as a leading player in the exploration space, including with porphyry's.
Peter Leaman, our exploration executive, was very hands-on and involved with the discovery of Reko Diq in Pakistan and a number of other discoveries for BHP. Peter also ran the last district-scale exploration program in this copper belt, the Falcon survey and JV with Ivanhoe, when BHP came in again after the discovery of OT.
They're the leaders of our technical committee and team.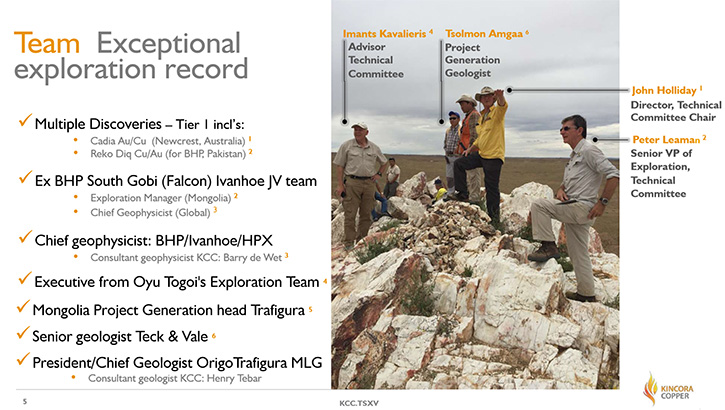 Our Chairman, who joined us last year, is Cameron McRae. Cameron was 28 years with Rio Tinto, involved in many emerging market construction projects as well as the corporate side of the business. Cameron's last role for Rio Tinto was President and CEO of OT during the construction and conditioning phase. He oversaw six billion dollars' worth of investments into that project, the open pit commencing, and the underground commencing.
All the key members of the team, including Board, have experience operating in Mongolia for a significant period of time, and/or understand what it takes to find T1 copper porphyries – the latter is what we are looking for and attracted the quality of the team that we now have in place.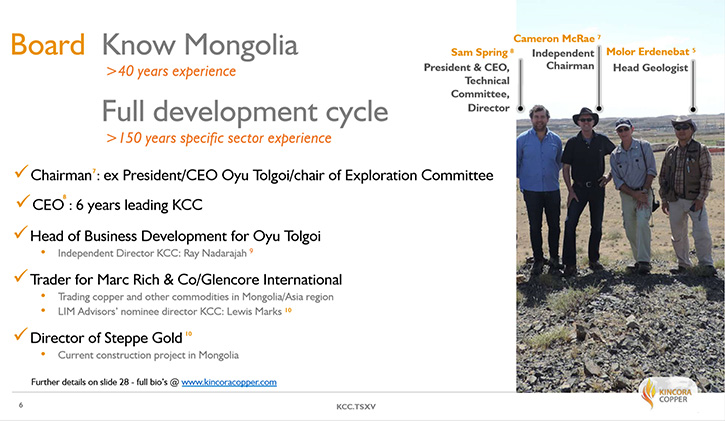 Dr. Allen Alper:It's great to have such a knowledgeable team, experienced team, and such a successful team. Could you say a few words about your background, Sam?
Sam Spring:Yes, absolutely. I'm more from the financial side, a chartered accountant, a CFA, worked at Goldman Sachs in London, under the co-head of European research before moving into the junior resource sector, that I've been in for over a decade now.
I was quite involved with the formation of Kincora, being on the advisory side and financing side of that deal, and I saw first-hand the significant interest and good results that Bronze Fox was triggering. When I joined the Company in 2012, there were 14 NDAs, an offer for the company, and a separate period of exclusivity when we were drilling at Bronze Fox.
Almost all of the major players in the copper industry were doing due diligence on the Southern Gobi belt, recognizing its very large mineral endowment discovered with relatively very little exploration. That very prospective exploration scenario and scope for other Tier 1 discoveries hasn't changed and with the neighbor next door, China, which is within trucking distance, every day only consuming more copper.
As mentioned, I've been with the Company since 2012 and our targets, team and shareholder register, and probably also the outlook for copper, has never looked better with the Company again set to let the drill bit determine our valuation going forward with 5 very exciting and independent targets now drill ready and permitted.
Dr. Allen Alper:Could you tell our readers/investors a little bit about the share structure? I know the management team has skin in the game.
Sam Spring:We do. Obviously the capital markets for juniors have been difficult, and we've tried to align ourselves with shareholders as best we can. Board and Management are indeed also shareholders, owning about seven percent of the Company and have a significant portion of remuneration in equity, and not in cash. For example, Peter Leaman, our VP of Exploration, who is driving our exploration strategy, hasn't received a cash salary since joining us two and a half years ago. He's been receiving that compensation in shares, because he knows what the value of a discovery can create, as does the whole Board.
We have a good register. Our largest shareholder is LIM Advisors out of Hong Kong, which has over a billion dollars of assets under management. LIM got involved in the second half of last year, having acquired some overhangs that were weighing on our share price, taking out two former Directors and associated shareholdings. They're our largest shareholder with 28%, and we have three other recognized institutions, the likes of the European Bank for Reconstruction and Development (EBRD), that each own six percent. A good private equity group that also corner-stoned our last capital raising on the register.
We have a relatively sophisticated shareholder register, as a whole, with a tight register of only 71 million shares outstanding, few warrants and options.
We've tried to get the corporate strategy aligned with what our asset portfolio is and mindful that we're looking for copper porphyries that do require a relatively deep pocket register and a sophisticated register.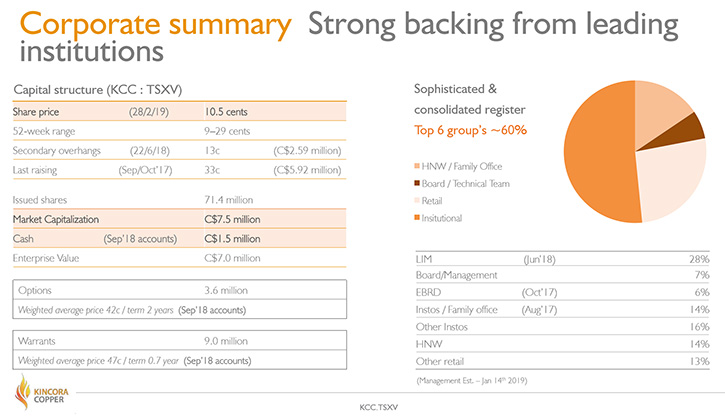 Dr. Allen Alper:Could you tell our readers/investors your plans for 2019?
Sam Spring:Our exploration plans are getting to the very exciting stage of target testing, where success creates multiples, not percentages, of returns to shareholders. Over two and half years' worth of continued and systematic work has happened under this technical team, getting these targets for the first time to the target testing stage and now all we can do to further advancement them is drill them – drill and kill or drill and discover.
We have 5 independent targets at 2 projects. All are very large-scale targets, of such a scale that success would be defined as the first globally significant discovery in the industry since 2014. The two projects are mineralized, they are in the right location, in the belt, and they have the right geophysical and geological signatures that complement each other.
As we are on the public record saying "these targets, for their respective stages of exploration, are considered "as good as you get within a global setting". Confirmation of our geological models with positive results from the proposed drilling have the potential to demonstrate, and in time, elevate both projects to Tier 1 or world-class status"1.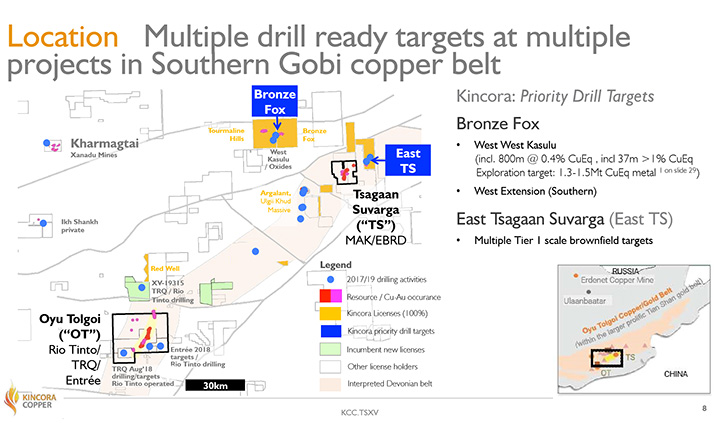 Dr. Allen Alper:That sounds excellent, like 2019 will be an exciting time for Kincora Copper.
Sam Spring:Well, we certainly hope so and feel we have the foundations for success. We've had some corporate issues, in terms of Board turnover and shareholder turnover that impacted us last year – 3 of a 5-person board and 30% of the registers turned over. Big red flags to investors not understanding the underlying circumstances for these large changes that cost us a drill season and impeded the execution of the strategy we raised money on in late 2017 – no drilling occurred in 2018.
That said, we did a lot of work in the field, completing a block model for Bronze Fox, relogging over 24,000 of drilling, undertaking new geophysics at multiple projects, completely reinterpreting all previous geology and geophysics, and now getting sufficient data to convert the stated exploration target of 1.3 to 1.5 million tons of contained copper equivalent metal to a NI 43-101 standard. That exploration target sits in the block model. We previously didn't have specific gravities, so the QP couldn't sign off on that block model, but now we do when we relogged the entire prior drill core.
But the key thing which we are confident will drive shareholder value is confirming that these targets, both at the Bronze Fox and East Tsagaan Suvarga projects, have the scale and grade potential that we believe that they do.
When you look at other valuation peers, say for example, Xanadu Mines, which is listed in Canada and Australia, and its flagship project, Kharmagtai, is 140km away from our Bronze Fox project; and you have a look at say, SolGold, and its flagship Cascabel discovery in Ecuador, they provide very favorable valuation parameters for if, when, we start getting some good looking core with positive numbers out to the market again.
To help provide your readers/investors a bit of scale potential, from a conceptual perspective we feel that Bronze fox could potentially be twice the size of Xanadu's Kharmagtai project, and Xanadu has 12 times the market cap that we do today. When last drilling that high-grade zone at Bronze Fox we had a $40-50 million market cap, 4-5x our current valuation and before the IBEX portfolio was in the mix, but we haven't drilled that zone for some time (2012) and we need to rebuild positive news flow in the market again.
Our East Tsagaan Suvarga project, where we're looking to drill 3 intrusions, each of those intrusions has the scale potential of SolGold's Alpala project that Cascabel has and are the closest comparable targets to the Oyu Tolgoi system since OT.
We're elephant country, we know that we have mineralization at these two projects, we have a team that has found T1 assets before and stuck through the corporate headwinds that impacted us not drilling last year because we just want to see these targets drilled and the permits are in place. It should be a very exciting period for the Company.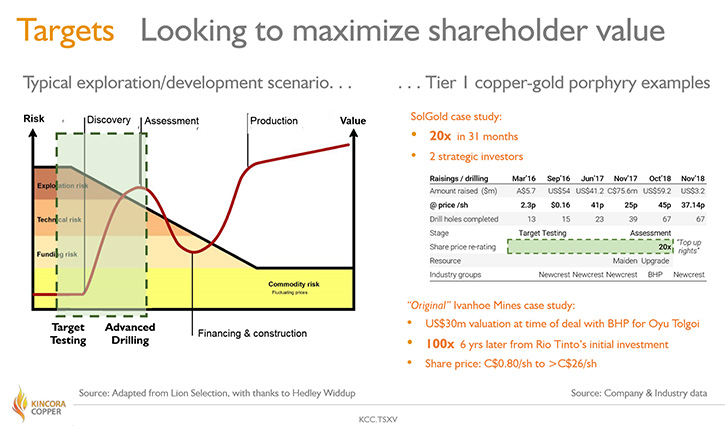 Dr. Allen Alper:That sounds great. I'll be watching your news releases very closely, and we'll be publishing them in Metals News, Facebook and Twitter.
Could you tell our readers/investors the primary reasons they should consider investing in Kincora Copper?
Sam Spring:Absolutely. I think, once we get the drill rigs turning, it'll be hard to find an investment opportunity that has a lower starting point in terms of valuation, with as many catalysts, 5 targets at 2 known mineralized and very large-scale projects, each independent target, if we have success, likely supporting 10x, in terms of return. We have a technical team that I think would be hard to find in a small-mid cap company that's comparable, and that also has skin in the game.
We have passed 4 technical reviews from large institutional investors since the IBEX transaction who have subsequently invested in us. For your readers/investors, I note that while we are still at the risk capital stage, success would see us have visibility for, if not make at least one discovery, and a new discovery is still one of those items of return that's very hard to find in alternative forms of risk capital, with copper porphyries are effectively the ultimate exploration prize in our sector.
We have 5 targets that could be the next globally significant discovery.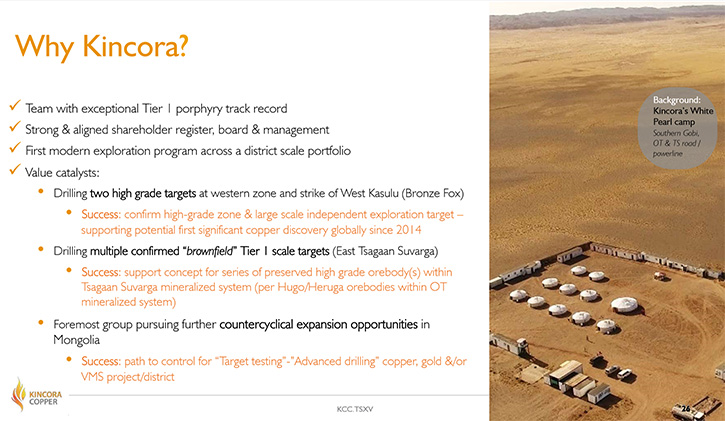 Dr. Allen Alper:Sounds like very strong reasons for our readers/investors to consider investing in Kincora Copper.
Is there anything else you'd like to add, Sam?
Sam Spring:One set of questions we always get, which is natural, because we are operating in an emerging market, are along the lines of, "What's going on in Mongolia? Can you operate there? Can you permit and discover projects and effectively exit, and create value for shareholders?"
All the Board and Management have either worked in Mongolia, is based in Mongolia, and/or speaks Mongolian. There is now the precedent that a junior in Mongolia can find, permit and commercialize a project of the scale of OT, which generated 100 times valuation uplift from when Ivanhoe secured that from BHP to when Rio came in and undertook its strategic investment in the then-Ivanhoe. Others should be able to follow in their footsteps and do that again.
People quite often ask us if we are comfortable exploring in Mongolia, and we certainly have the experience and our eyes wide open. I'm comfortable that if we find what we're looking for, that investors will enjoy a significant re-rating in the share price.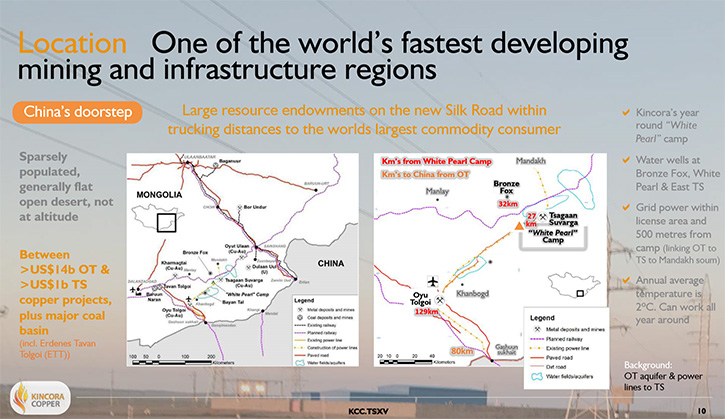 Dr. Allen Alper:That sounds excellent. We'll publish your press releases as they come out so our readers/investors can follow your progress.