The following interview is a Guest Post from our friends at Metals News. Dr. Allen Alper runs the show there. The views and reported facts in this informative and interesting interview are solely the responsibility of Dr. Alper, Metals News & CEO Trevor Walker. Peter Epstein of Epstein Research has no prior or existing relationship with any person or company mentioned herein.
Frontier Lithium Inc. (TSX.V: FL) is focused on becoming a low-cost, fully integrated lithium producer, through development of the world-class PAK lithium deposit in Ontario, Canada. At PDAC 2019, we learned from Trevor Walker, President and CEO of Frontier Lithium, that they have invested nearly $10 million into the project since 2013, and turned it into the highest-grade lithium deposit in North America. According to Mr. Walker, Frontier Lithium can become a producer in the lithium space, first, by supplying technical grade concentrates for high-end glass manufacturers, second, by supplying premium chemical grade concentrates for the production of lithium hydroxide. We learned from Mr. Walker, that the Company recently commenced a maiden drill program at the newly discovered high-grade Spark Pegmatite, 2.3 km northwest of the PAK deposit. Frontier Lithium maintains a tight share structure with management ownership over 30%.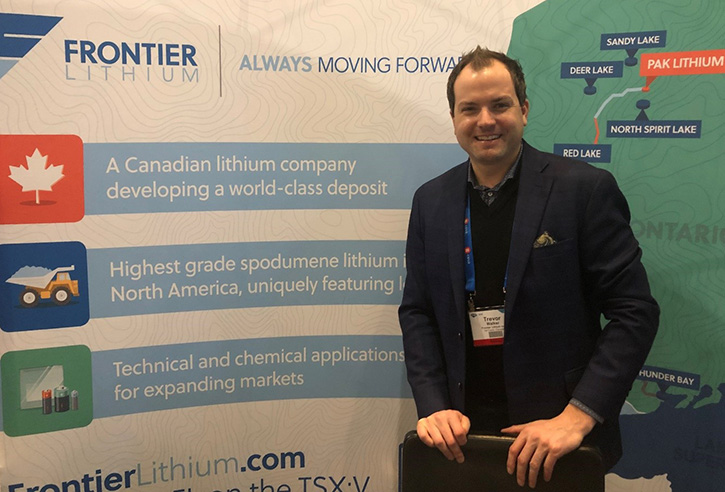 Trevor Walker, President and CEO of Frontier Lithium at PDAC 2018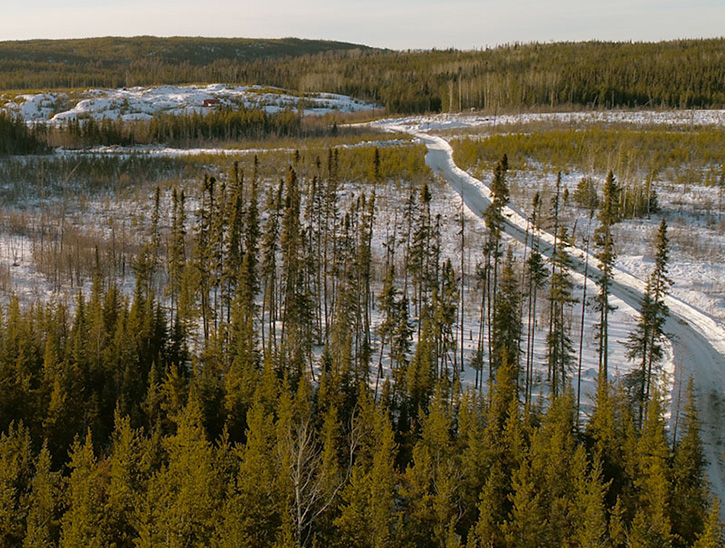 Aerial view of PAK Lithium Project located 175 kilometers north of Red Lake in northwestern Ontario
Allen Alper Jr: This is Allen Alper Jr., President of Metals News, here at PDAC 2019, interviewing Trevor Walker who's the President and CEO of Frontier Lithium. So Trevor, tell us a little bit about yourself, and then we'll talk about Frontier Lithium.
Trevor Walker: I've been with the Company since 2010. I was brought into a distressed company. My background comes from the production side, in the mining space. I have been a mining contractor for most of my life. I've been very fortunate to span from industrial minerals to narrow gold mining, where dilution control is priority.
As a result of that, I managed to see a lot and do a lot in surface mining. I came in 2010, divested out of other assets and got to work on the PAK Lithium Project. 2013, put the first drill hole in. And, we've invested nearly $10 million into the project since then.
And, it's turned into the… It's the richest here in Ontario- great jurisdiction. We are very fortunate to be working at the onset of increased demand for lithium with low iron. Statistically, that's an outlier. Those deposits are really, really hard to find. And, we believe that between its chemistry, geometry, and the growing tonnage on the project that we have the goods to actually become a supplier in the lithium space.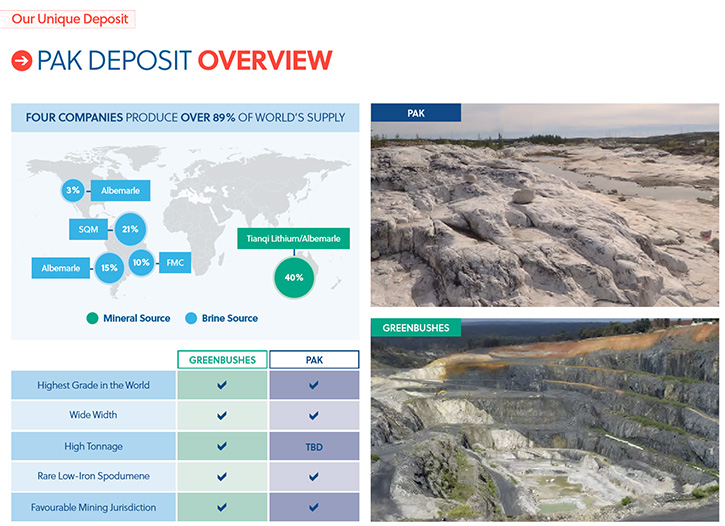 We're taking a staged approach to development. Because of the low iron content in the mineral spodumene- which we have- we're able to produce a concentrate that has roughly double the value of the high iron spodumene that would feed a chemical plant. The value is higher because the material can be used in glass ceramics.
The best glass in the world is the lithiated glass. The prime example of that would be cook tops, which are ceramic glass, with roughly 4% lithium oxide in the glass. Lithium oxide allows the cook top to take the heats and stress. So, it's a unique material that focuses on about 10% of the totally lithium space, which we refer to as technical grade concentrates for the glass industry. And that is our focus here at Frontier Lithium to move this project forward.
Allen Alper Jr: Well, that's great. I know a bit about glass because my Dad was a Research Fellow and Manager of Ceramics and Refractories at Corning Glass in Corning, NY, where I live now. He published a series of books on Phase Diagrams and high temperature materials and had 33 patents. So you can imagine what he liked to teach us.
Trevor Walker: Yeah. Absolutely. The big growth for Corning now is that high-end display glass going into Tesla. I think it is sixth generation Gorilla Glass? It's lithiated glass now. I guess it's the main reason the new iPhone has doubled in price. It's all about the glass in the phone. Lithiated glass from Corning.
Allen Alper Jr: And the bigger screens. More of it.
Trevor Walker: Absolutely. I think a big growth for them is on the transportation side. You're starting to see these high-end screens in vehicles. That's a big driver for Corning and on the industrial side of the space, that market for technical grade clean concentrates. Corning is obviously the biggest user in that space in the world. That continues to grow about 10% per year.
And, the problem in that business is essentially the sole supplier of technical grade concentrates comes from one mine in Australia.
Allen Alper Jr: So, you could be a second source?
Trevor Walker: Absolutely. That, you know, has a lot of appeal for us because, it's a niche market. It's an entry into the market with the lowest possible capital. And, you know, our competition is on the other side of the world and that asset's controlled by a Chinese entity that continues to grow around the battery space.
Allen Alper Jr: Tell us a bit about your share structure?
Trevor Walker: We're a small company, roughly $65 million Canadian. We are very fortunate to have management ownership exceeding 30% of the company. So, 150 million shares out, roughly. But, it's very tightly held.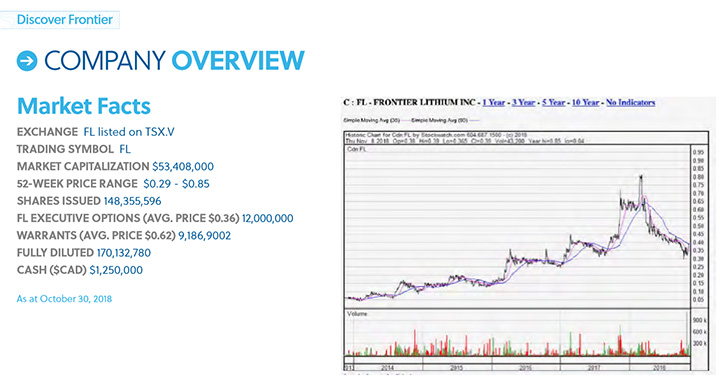 Management's skin's in the game. We think we've done a pretty good job with our capital structure to move this forward.
The key for us is not to get too loose and ahead of ourselves. Hence, the staged approach to development. A crawl before you walk and walk before you run development strategy is behind this.
Some good key things to help on our enterprise value, our market capitalization is a new discovery we've made from the PAK deposit. About 2.3 kilometers up, what's referred to as the "Electric Avenue", it's a fault, we made a new discovery, which is referred to as the "Spark Showing". At surface, it showed some really good width of spodumene; roughly 100 meters. It appears to be standing vertically; about 250 meters of strike length. And, the lake, the PAK deposit, close to 2% grade. So, that's really interesting for us. We just completed a maiden drill program on that asset a week ago.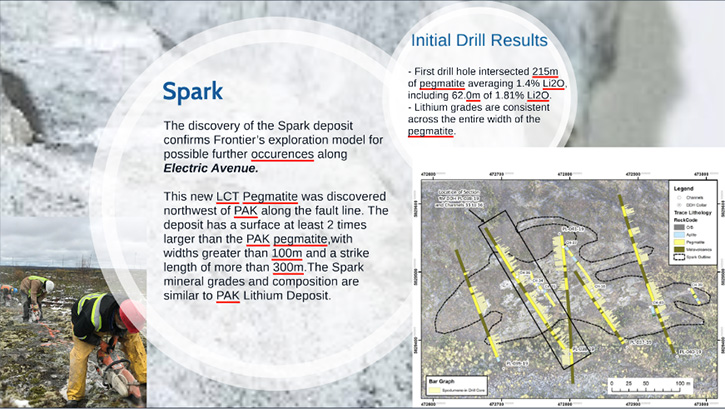 Allen Alper Jr: Is it the same chemistry? Low iron?
Trevor Walker: Very similar, yes. All indications suggest that it is very, very similar chemistry to the PAK deposit from the same source. So, we're really bullish on that, because I see the potential to double our resource on the project.
Allen Alper Jr: Excellent!
Trevor Walker: And, when we see that, that's low hanging fruit to strengthen the metrics with our market cap, share price. As well, we're getting into that neighborhood of resource size that will allow us to support a fully integrated company in the future, to not only produce premium concentrates, but with the potential to go downstream to refine concentrates further to produce lithium salts.
Allen Alper Jr: Great! And, you were talking a little bit about your next steps in your drill program?
Trevor Walker: We just completed a maiden program. We will go back roughly three months from now for a phase II drill program. We believe it'll be in the range of a 1,200 to 2,000 meter drill program. I'm really bullish that we'll be building our resource estimate around that. I see strong potential to double the resource on the project.
Allen Alper Jr: When would you expect to start that?
Trevor Walker: I'd look at June, early July to get started with that. That program would roughly run about a month, month and a half max. Then by the fall have the resource estimate on the Spark Showing.
Allen Alper Jr: Excellent! What do you see right now as the biggest challenges?
Trevor Walker: The biggest challenge on paper for the project is its location. We access the deposits via Winter roads.
We're performing a scoping study right now internally and doing the engineering around phase I demonstration concentrator, which basically will produce technical grade concentrates for glass makers. The current infrastructure is suitable for the size of plant that we're considering to put in there. But that's the luxury of this low iron aspect. We could start small with a smaller plant, produce material for glass makers, continue to de-risk, and look downstream, as the resource continues to grow on the project, to then putting together the scale to be a part of northern development here in Ontario for the power and all season road.
We're fortunate that about 100 kilometers south of the project the First Nations' community just got plugged into the grid on power. There are plans to have the big power actually go right past these deposits before 2023. So, that big power and infrastructure is coming. We just have to make sure that we continue down our path so we're ready when it gets there. In the meantime, the current infrastructure is suitably based on the small concentrator to de-risk the bigger project, which would be the possibility of going downstream into lithium salts – lithium chemicals.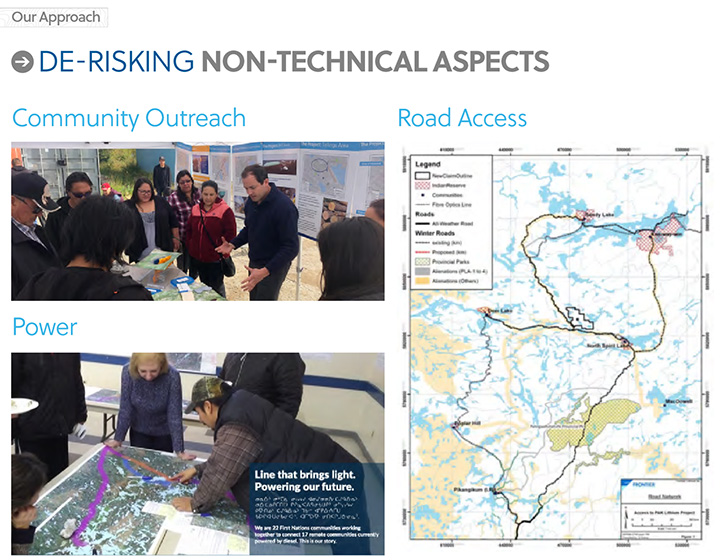 Allen Alper Jr: Is this smaller plant a pilot plant or production?
Trevor Walker: It's a demonstration plant and that would represent roughly 10% of the current production from the mine in Australia. So, we're not being overambitious. It's not an easy business. We're not promoters. We're miners. Firstly we have to get in and establish our creditability, our ability to supply. We have to build a mine!
Allen Alper Jr: Right.
Trevor Walker: Mines build chemical plants and lead to further downstream products. So, we think the phased approach is the right approach to de-risk the asset, while building a really robust company.
You know, the possibility is there. We may never look at or do lithium salts. But, we're considering it. While we go through our first phase, installing a concentrator on site, we're going to learn a lot.
We'll know what we need to do in a year or two from now, with a greater level of certainty. In the meantime, we'll take care of our shareholders and take this phased approach.
I think it's the right plan, given some of the challenges on the project, and given the high-value potential that we have – the fact that it's a low iron spodumene – very unique and hard to find. So, that's Frontier Lithium in a nutshell.
Allen Alper Jr: What type of a cash position do you have? What will you need to raise?
Trevor Walker: Before construction and development, we will look at one smaller raise for the capital required for the demonstration plant. I wouldn't expect that to happen for the next three months. We are sitting on around one million and a half right now. We would look at possibly about a $2 million raise, but not in the immediate future. We have a few steps to get done here first and some information to roll out.
Allen Alper Jr: It's a little premature.
Trevor Walker: Yeah. It's a little premature right now.
Allen Alper Jr: What do you think are the main reasons people should be looking at Frontier Lithium right now?
Trevor Walker: Lithium has people a little nervous. The oligarchy of four that supplies 90% of the world's lithium wants to maintain control. You know, it's during difficult times that good assets can step forward. And, we believe that's going to happen for Frontier Lithium with the PAK Lithium Project. We believe, based on the activities on site and the engineering scoping taking place, we're not too far away from rolling out a beautiful vision, for a Company that we think has the goods to become a supplier in the lithium space. And, that is a rarity. We just stay focused on doing things right, around the right asset. And, we're certain our shareholders are going to benefit and be really happy over the next six months.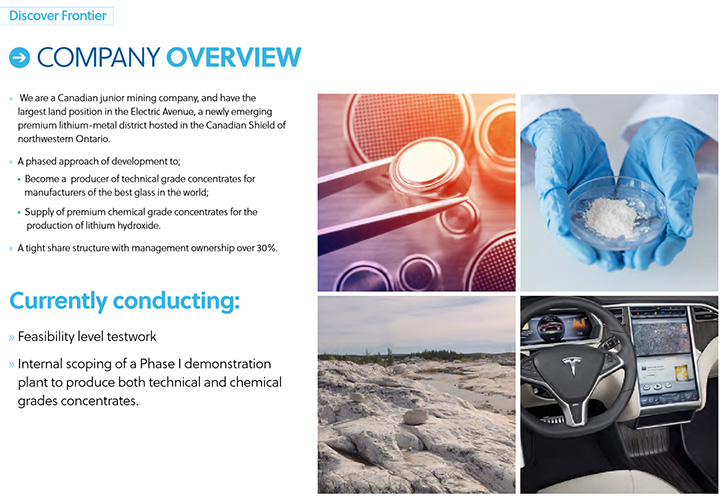 Allen Alper Jr: Sounds excellent. Is there anything else you'd like to add?
Trevor Walker: No. I think you did a good job with the questions. I think we've covered pretty much all aspects of the Company. Thank you for interviewing Frontier Lithium for Metals News.
Allen Alper Jr: Thank you. We'll publish your press releases as they come out so our readers/investors can follow your progress.