The following interview of CEO & Director Robert Mintak of Standard Lithium Ltd. was conducted by Dr. Allen Alper of Metals News. Peter Epstein, of Epstein Research, had nothing to do with its preparation, editing or the questions asked. Epstein Research is posting this interview as a Guest Post. Standard Lithium is an advertiser on Epstein Research and Peter Epstein owns shares of Standard Lithium. The views, opinions, reported facts, etc., are entirely those of Mr. Mintak and Dr. Alper.
Standard Lithium Ltd. (TSXV: SLL, OTCQX: STLHF, FRA: S5L) is a specialty chemical company, focused on unlocking the value of existing, large-scale, US–based, lithium-brine resources. The Company's flagship project is located in southern Arkansas, where it is engaged in the testing and proving of the commercial viability of lithium extraction, from over 150,000 acres of permitted brine operations, utilizing the Company's proprietary selective extraction technology.
We learned from Robert Mintak, CEO and Director of Standard Lithium, that in 2018 they partnered with LANXESS AG, one of the biggest chemical companies in Europe, to use the brine from the LANXESS operating permitted brine facilities, in south Arkansas, to test and pursue the commercial development of extracting battery-grade lithium from that brine.
In addition, subject to proof of concept and a positive feasibility study, Standard Lithium and LANXESS will form a joint venture to develop the project and add another 27,000 acres of Standard Lithium's green field brine leases located near the LANXESS operations. The Company built an industrial-scale demonstration plant that will be shipped to Arkansas from Canada later this month.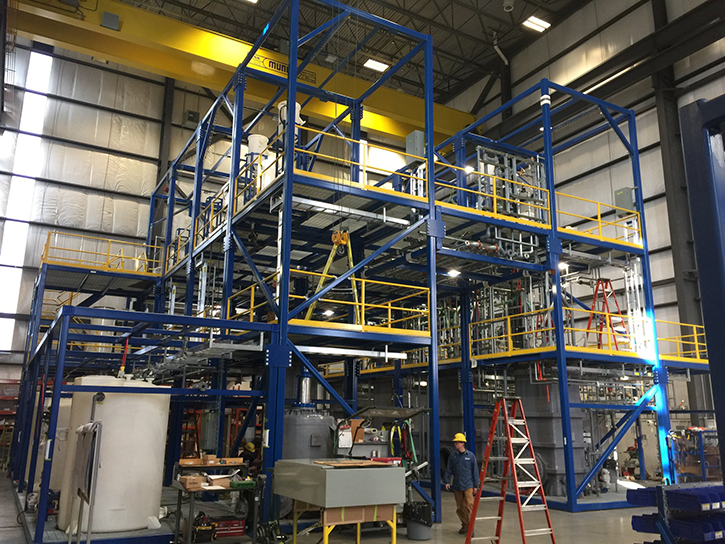 Standard Lithium Ltd. industrial-scale demonstration plant
Dr. Allen Alper: This is Dr. Allen Alper, Editor-in-Chief of Metals News, interviewing Robert Mintak who is CEO and a Director of Standard Lithium. Robert, I wonder if you could give our readers / investors an overview of Standard Lithium, and what differentiates your Company from other peers? 
Robert Mintak: Our south Arkansas project is the largest and most advanced U.S. based lithium brine project. It has an NI 43-101 lithium carbonate resource of 3.9 million tonnes, 3.14 million tonnes at the indicated resource level. What truly sets us apart from our peers is that the project is already producing and commercially processing brine on a massive scale.
Our project partners, Lanxess, have the largest brine processing facilities in North America; three operating plants, hundreds of miles of pipelines, dozens of supply and disposal wells, more than 500 employees at the sites and of course the related infrastructure and permits for brine production and chemical processing.
The three Lanxess plants, in south Arkansas, produce roughly six billion gallons of brine annually. Recovering the lithium in that produced brine, is greater than the current largest producer in Argentina. That is without having to drill a single new well. Additionally, and very important for investors, the planned joined venture we have signed with Lanxess includes a commitment from them for non-dilutive project financing, 100% off-take and commercial plant operations.
Project finance and operational expertise are key fundamentals for investors to have any confidence that a project has a chance for success. Throw in a great jurisdiction, existing permits, skilled work force and an off-take agreement and you really stand out from the crowd. 
Dr. Allen Alper: What attracted you to go to Arkansas, while others are chasing projects in South America and Nevada? 
Robert Mintak: Our business plan is simple, find the fastest path to production. And to do that through strategic partnerships that reduce risk and to leverage existing infrastructure. Not to obsess on grade or discovery, but rather to focus on execution.
Grade is of course important, but brines with commercially viable concentrations of lithium, where the infrastructure and related ancillary elements are in place, will trump a high-grade discovery in a remote, geo-politically challenged region. So we set our sights on Arkansas, home to the largest brine production region in North America, a region that fortunately wasn't on the radar of our peers. Not to say that others haven't looked at Arkansas and identified its world class potential. 
Albemarle, the world's biggest lithium company, has a large presence in Magnolia Arkansas, where they have their bromine business units and Albemarle has listed it as a world-class lithium asset in their investor presentations and mentioned it as one of the reasons they acquired Rockwood Lithium in 2014.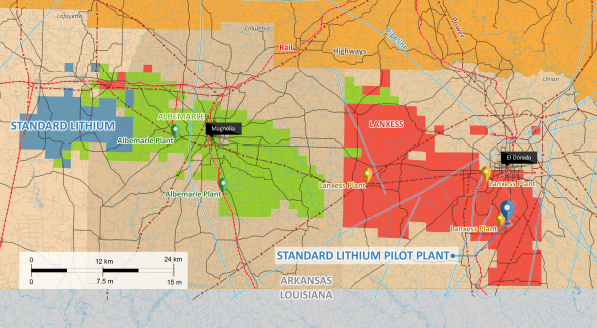 Standard Lithium chose south Arkansas as a key development target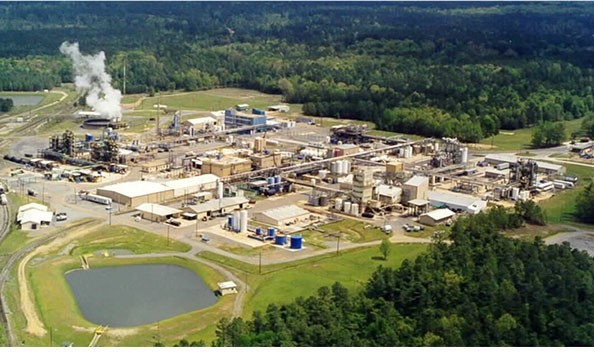 In May 2018, the Company signed up with LANXESS Corporation ("LANXESS"), a global specialty chemicals company and its US affiliate Great Lakes Chemical Corporation ("GLCC")
Dr. Allen Alper: Arkansas isn't a conventional lithium brine; you can't use evaporation ponds. How are you going to extract the lithium? 
Robert Mintak: The technical challenge that we accepted on this project was that the 20th century way of recovering lithium from brine, using massive solar evaporation ponds to concentrate the brine and bathtub chemistry to precipitate out contaminants from the brine, doesn't work in Arkansas. Meteorologically it rains, geographically it is hilly, and regulatory wise you have to put the brine back in the ground after processing.
It is extremely important to note that the evaporation pond process is not optimal, it is slow, it takes months to up to a year or more for the evaporation process, it has a huge environmental footprint, typically recovers only 50% of the lithium. It is a process not built for the modern economy and 21st century lithium chemical compounds that require higher purities and consistent supply arrangements. 
The process of extraction of lithium ions out of brine isn't difficult. There are a number of established ways to accomplish that; nano-filtration, membranes, solvent extraction, ion exchange. But each of those has its own particular challenges when you try to scale them to economic commercial production, when the brine chemistry and project fundamentals are considered. The approach we took is the project always drives the process. We didn't take a process or an ideology and force it on the project.
We began work in the fall of 2017 when we started bench- or lab-scale work. We had the good fortune of having access to large volumes of real brine from the project. Our team tested a range of technologies and then settled on a general "suite" of technologies would work best with our brine.
The bench-scale work answered the question of selectively extracting the lithium from the brine. Direct lithium extraction from the Lanxess tail brine using a highly selective sorbent was the way to go. We then ran two programs of pilot work to enhance our understanding of the process engineering. One of these was done at batch scale, then scaled this up and ran it on a continuous basis.
This stage is where the craftsmanship of our team allowed us to develop an elegant and simple flow sheet, using equipment and processes already used in very large commercial scale complementary industries.
The proprietary process we have developed bolts on to the back of Lanxess' existing operations and effectively pulls greater than 90% of the lithium from their tail or waste brine in a process that takes only a matter of hours. The output is a high purity lithium chloride solution, all of the lithium barren brine is returned to the aquifer.  
Our upcoming demonstration pilot plant should be the proof of concept required to make a final investment decision for commercial production — it is a large demonstration pilot that can be scaled directly to a commercial facility; it's designed to process up to 50 gallons per minute of tail brine from Lanxess South Plant and produce 100 to 150 tonnes of lithium carbonate per year. It will be 100 times larger than the mini pilot plant.
The demonstration plant is about 1/100th commercial scale. We were fortunate to partner with Lanxess, a global specialty company. The general term sheet we have signed with Lanxess, contemplates forming a joint venture for the commercial production of battery-quality lithium compounds.
The term sheet includes commitments from Lanxess for project financing. Our next significant milestone is to provide Lanxess proof of concept on our extraction technology with the demonstration plant, and, then subject to a positive feasibility study, the goal is a final investment decision by the middle of next year. 
Dr. Allen Alper: Well, that's a very amazing accomplishment for you and your team, picking such a great site, a great area, having advanced technology and how fast you are able to move the project along. I'm very impressed with what you and your team are doing. Excellent! Excellent work. Could you tell our readers/investors about your background and your team?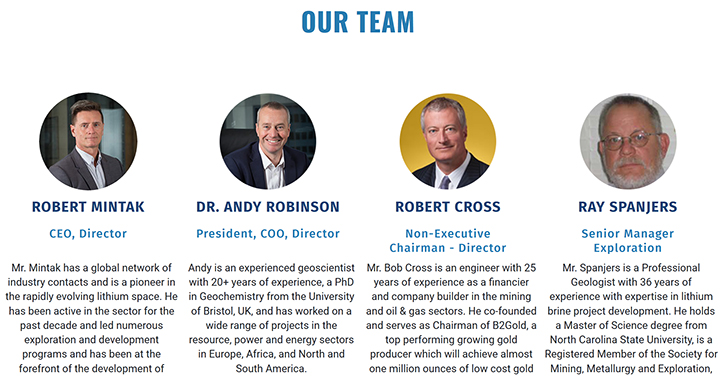 Robert Mintak: Absolutely. My background isn't in mining or geology or even processing technology. I'm more of a brick and mortar man, running the business and corporate development, but I've been working in the lithium space for the better part of the last decade. Prior to Standard Lithium, I was Chairman and then before that CEO of another lithium brine project development company called Pure Energy.
I took over that Company in 2013, and we made fairly strong impact in the space because Pure Energy was one of only two companies that signed a supply contract with Tesla. The project we had in south central Nevada was a brine project up against Albemarle's producing asset there, and it required us to develop a new processing technology approach to unlock that project. 
Dr. Andy Robinson, who was the COO at Pure Energy joined me at Standard. Andy is a Ph.D geochemist. He's been in the lithium space, with me, for the better part of the last five years. The team that Andy's put together, on the process and crystallization technology side, has decades of experience.
With people working in ion exchange, water treatment and from industrial water treatment and the pharmaceutical industry as well, so we've brought a team from very diverse but related disciplines to the project. It has worked out very effectively for us, because it allowed us to look at things with a clean lens. 
Dr. Allen Alper: It sounds like an excellent approach. Could you tell our readers/investors a little bit about your capital and share structure? 
Robert Mintak: To date we've been fairly successful in being able to access capital. The entire lithium space has taken a hit over the last 18 months, and we're no different. We have raised, to date, around $43 million Canadian, in total since 2017, when we took over the company.
Recently we closed an $11 million bought deal financing with Canaccord in late March of this year. That was done at a dollar. Unfortunately, it was half the price of the $21 million raise we did in February 2018, but our investors have been strong supporters. They see opportunity and that we have executed on our business plan.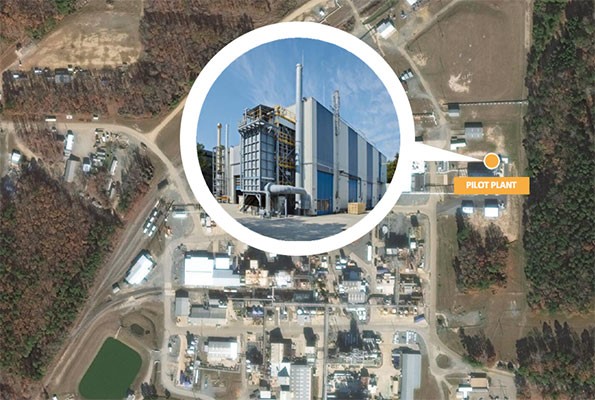 The MoU will also allow Standard Lithium to build a selective lithium extraction demonstration pilot plant on one of LANXESS's three production facilities.
We have capital in hand to achieve the immediate milestones in front of us. The share price today is around 90 cents Canadian with roughly 88 million shares outstanding.
Dr. Allen Alper: It sounds like you're very well-positioned, with a very large company to support you and help you in what is a very tight market right now. So, that's excellent to have that opportunity. Could you tell our readers/investors the primary reasons they should consider investing in Standard Lithium? 
Robert Mintak: The shine has come off lithium a little bit right now, but the story remains extremely strong. Demand is growing and is projected to be as much as a million tons of lithium compounds required by 2025. Globally production is not even 300,000 tonnes today. Projects generally take a long time to build, so there's going to be an extremely tight lithium supply/demand, with little slack over the next three to five years.
Investors should look at the space, with care and focus on projects that are in safe jurisdictions, strong infrastructure, and companies that have strong financial and technical partners. We're well positioned to be the first new lithium producer in the U.S. in over 50 years. Logistically, in my opinion, it is the best location globally to build a project.
We have the existing commercial brine operations and associated permits, highly skilled work force onsite, terrific jurisdiction, low cost power, low cost chemical reagents. Everything that is required to build a project, and a great partner in Lanxess with a financial and off-take commitment. 
Dr. Allen Alper: That sounds excellent. Those are very strong reasons for our readers/ investors to consider investing in Standard Lithium. Is there anything else you'd like to add, Robert? 
Robert Mintak: I would just encourage people to follow our news. We're currently in build mode. We broke ground in Arkansas last month. There're crews, bulldozers, working there every day. The demonstration plant will begin shipping later this month to Arkansas. We will be updating at the appropriate stages. This is a first of its kind globally. I want to stress it is one of, if not the smallest, environmental footprints of any lithium project. 
So, look at it as part of the greening of the EV industry supply chain. Thank you for interviewing us at Standard Lithium for an article in Metals News. 
Dr. Allen Alper: Your project sounds excellent! We'll publish your press releases as they come out so our readers/investors can follow your progress. 
Standard Lithium Ltd. 
Robert Mintak, CEO & Director 
T: +1 (604) 409-8154 
info@standardlithium.com