The following article is a guest post from Greg Nolan of equity.guru. X-Terra Resources is hosting a conference call today (Nov. 2nd) at 1pm EST. Details at bottom of page. X-Terra is an advertising client of Epstein Research [ER]. As such, [ER] is biased in favor of the Company.
71.39 million shares outstanding
$10.71M market cap based on its recent $0.15 close
The Company's 280 square kilometer Grog and Northwest projects are located along the McKenzie Gulch Fault in Northeastern New Brunswick.
The target at Grog is a large intrusion-related epithermal system.
An 11-hole drill program conducted earlier this year yielded a new discovery in hole GRG-20-012: 0.41 g/t Au over 36 m (including 0.46 g/t Au over 31 meters and 7.59 g/t Au over 0.6 m) at a vertical depth of 81 m.
On September 21st, the Company established a good correlation between geophysics and geochemistry at Grog.
A total of 128 geochemical samples were collected over three parallel lines (with approx 150 meters between lines)—the samples were taken every 25 m. The objective was not only to confirm the position of the gold-bearing structure at Grog, but to test and confirm the possibility of parallel signatures identified via 3-D magnetic inversion analysis.
The B Horizon samples allowed X-Terra to determine rock types, alteration patterns, and precise levels of pathfinder elements such as Arsenic (As) and Antimony (Sb). The results yielded values up to 36 ppb Au, 291 ppm As, and 25.8 ppm Sb.
Elevated gold anomalies were identified on two of the three lines centered on the Grog target. The arsenic and antimony elements complement the signature, offering a better read on the identified Grog target (antimony and arsenic are two key pathfinders for gold).
The combined, superimposed Au-As-Sb anomaly now outlines this target to 250 metres in width while also extending it approximately 750 metres. Excitingly enough, the same type of anomaly was able to be identified 700 metres east-south-east of the Grog target on a parallel trend.
Michael Ferreira, X-Terra CEO:
"The correlation obtained during this phase of works between low mag, high resistivity and gold-arsenic-anomaly at the margin can be considered a significant step up in our understanding of the Grog system. 
Not only was the kilometric strike length of the known gold system reached and confirmed by a common signature, but our hypothesis was validated that two other parallel trends of the same orientation and thickness creating a 5km2 target. This threshold was an important step to reach considering that, this scale is widely accepted as precedent for exploring a deposit of a significant size."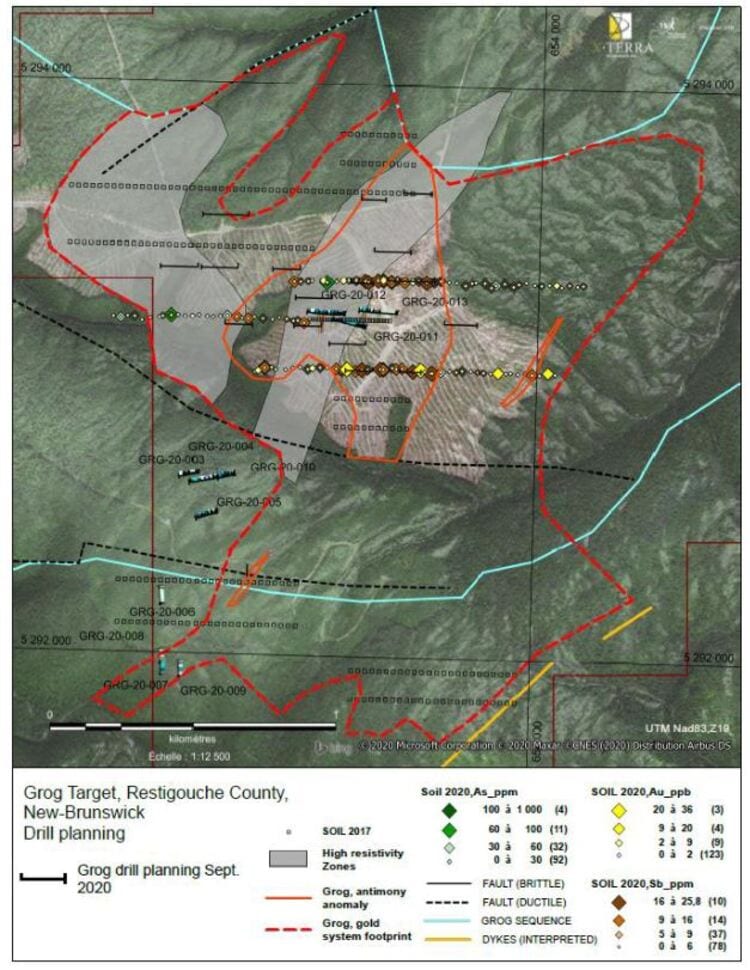 Highlights from this Sep. 21st press release:
X-Terra has increased the size of the original drill program (11 holes) to a total of 20 holes which include 4 shallow holes (100 meters) at the Rim target, and 16 holes (150 to 300 meters) at the Grog target;
Gold-in-soil anomalies above the Rim vein in addition to 4 other gold occurrences highlight the stacking possibility of additional gold bearing veins.
On October 13th, X-Terra dropped the following headline:
X-TERRA RESOURCES BEGINS DRILLING WITH TWO DRILLS AT THE GROG AND NORTHWEST PROPERTIES IN NEW BRUNSWICK
Here, the Company announced that drilling had commenced at Rim and Grog with two rigs.
Recent ground (IP) geophysics and geochemical sampling contributed to the final planning of this drilling campaign in a big way.
The drill section planned over the Rim vein target covers approximately 500 metres following a west north-west orientation cross cutting the main structural orientation. Gold bearing veins are believed to be concordant or parallel to the sedimentary bedding.
CEO Ferreira again:
"X-Terra's exploration team and drilling crews are excited to be drilling the Rim vein target which has never been drill tested, and given the additional gold-in-soil anomalies, it highlights the compelling possibility of a stacking of gold bearing veins below. The Rim vein target has yielded incredible gold grades from 4.5 g/t Au to 1,205 g/t Au with visible gold –(See X-Terra's press release dated December 5, 2018).
It's fantastic that we were able to secure a second drill to begin drilling the Grog target at the same time,as this should reduce the wait time for the first batch of results. Furthermore, this will be X-Terra's largest drill program completed on any of its properties to date".
During a recent chat with CEO Ferreira, I learned that drilling at Grog and Rim progressed without a hitch. Having worked as a contractor on highly technical, logistically challenging projects in the resource sector myself, I was impressed with the efficiencies Ferreira was able to deploy during this campaign.
I also learned that at least one hole at Grog tagged multiple zones of mineralization. Of course, hitting the right rock doesn't necessarily guarantee economic values.
X-Terra is also working its wholly-owned 93 square kilometer Troilus East property along the Frotet-Evans Greenstone Belt in northern Québec.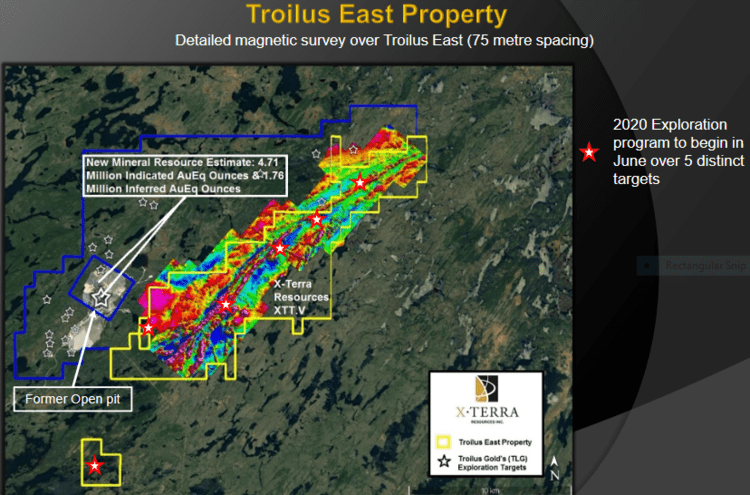 Troilus East shares a common border with Troilus Gold (TLG.T).
Troilus Gold boasts a current resource of 4.96 Moz Au Eq. Indicated (177 Mt with an average grade of 0.87 g/t Au Eq.) and 3.15 Moz Au Eq. Inferred (116.7 Mt with an average grade of 0.84 g/t Au Eq.).
This is a vastly under-explored region with latent world-class potential.
On October 15th, the Company announced the launch a MMI, humus, and till sampling campaign at Troilus East.
The program will cover (5) unique grids, including the new mineralized system discovered this past summer, (See X-Terra press release dated August 13, 2020), with the goal of identifying drill targets for a program to be launched later this year.
The highest priority target is located about three kilometres east of the Troilus deposit (Troilus Gold, TSX: TLG) following the southwestern side of the property. The 2.2-kilometre-long target is based on the discovery by surface exploration of a polymetallic signature (Cu, Ag, Au, W). The mixed sequence of intermediate volcanic interlayered with dioritic intrusions identified in this area shares many similarities with the Troilus deposit.
The four other sampling grids are distributed over a north-east structural corridor covering a strike length of ~13 km. Targets were identified through a previous till survey using recovered gold grains. Despite the historical two km spacing between lines, the systematic location of gold grain counts adjacent to strong magnetic contrasts can be considered as an indicator of a gold bearing structure.
If things play out according to plan, we'll see a drill rig mobilized to Troilus East later this quarter.
A final note on X-Terra Resources…
X-Terra will be hosting a conference call on Monday, November 2, 2020 at 1:00 p.m. (eastern time) with CEO Michael Ferreira.
On the agenda: an update on its mineral properties & ongoing exploration activities.
Conference call information:
Bell Conference:
1-855-453-6961 or 1-514-736-8049
No. 174-0032
An audio webcast will be accessible via the investors section of the X-Terra Resources website. The archive will remain available for 30 days after the call.