The following CEO interview was conducted by Dr. Allen Alper of Metals News. In it, CEO Thomas Ullrich describes in detail a significant gold opportunity that Aston Bay Holdings is pursuing in Virginia (USA). Recent results include multiple high-grade, near-surface drill holes including intervals of 35.6 g/t gold over 2 m, 20.4 g/t Au over 3.3 m and 24.7 g/t Au over 3.6 m. This is a company with a market cap of just US$7.3 million, and a tremendous management team. Please continue reading for more on this exciting company.
Aston Bay Holdings Ltd. (TSX-V: BAY; OTCQB: ATBHF) https://astonbayholdings.com/ is exploring for gold and base metal deposits in Virginia, USA, and Nunavut, Canada. We learned from Thomas Ullrich, CEO of Aston Bay, that their original flagship project is the Aston Bay property, located up in Nunavut, where they are looking to discover some very high-grade copper & zinc deposits. The company's current focus is on gold in Virginia, where the Company recently acquired a company exploring prospective private lands, located within a copper-lead-zinc-gold-silver mineralized belt at the Blue Ridge Project.
The acquired company, belonged to renowned geologist Don Taylor, the founder of Arizona Mining and the discoverer of the Taylor Deposit. Don has now joined Aston Bay as technical advisor to these projects. The land has fantastic gold potential, in the historic Virginia Gold belt, as well as a fantastic base metals potential. The recent drill program at the Company's Buckingham Gold Property, in Virginia, showed very high-grade gold results in the quartz veins as well as disseminated gold. Aston Bay has a very small, but very tight and very experienced technical team and the management owns 9% of the Company.
Above, drilling at Buckingham Gold property, Virginia (USA) April 2019
Dr. Allen Alper: This is Dr. Allen Alper, Editor-in-Chief of Metals News, interviewing Thomas Ullrich, CEO of Aston Bay Holdings. Tom, I wonder if you could give our readers / investors an overview of your Company. Also, what differentiates your Company from others? 
Thomas Ullrich: At Aston Bay, we're looking for gold, copper, and zinc in North America. We have two properties that we think have fantastic potential for all three of those metals. Our original flagship project is our Aston Bay property, located up in Nunavut. Up there we're looking for really high grade copper and zinc deposits. 
A new property that we've just brought onboard is our Blue Ridge property. This is located down in Virginia. It's a very interesting addition for us. It is Don Taylor's private company. 
For people who don't know Don, he is the founder of Arizona Mining and the discoverer of the Taylor Deposit, which was just bought last summer by South32 for well over a billion dollars. A proven guy. Essentially a mine finder. We're very happy to have picked up his projects in Virginia and have Don come on to continue to direct our exploration.
In Virginia, in the near term, we're looking for gold. We have proven gold potential in the historic Virginia Gold belt there. This area was the preeminent gold mining district in the United States, prior to the California gold rush. We know there're mines there and we have a new recent discovery.
Our Buckingham Gold Project is a style of mineralization that hasn't been really noted in Virginia before. It's similar to what they're seeing down at the Haile Gold Mine, just 200 miles to the southwest in South Carolina. We have high grade gold in quartz veins. Plus some lower grade gold, but still a good grade, of disseminated gold over some larger intercepts. 
What differentiates us, from some of the other companies out there, is we have a very small, but very tight and very experienced technical team. We only have two full-time employees in the Company, Sofia Harquail, who does IR in Corp Dev and myself. Our advisors are where we shine. In addition to Don Taylor, who was directing our exploration in Virginia, we also have Dr. David Broughton, who was Robert Friedland's former VPX from Ivanhoe Mines, who was on the team that found Komoa-Kakula in the Congo, a noted expert for copper and zinc deposits.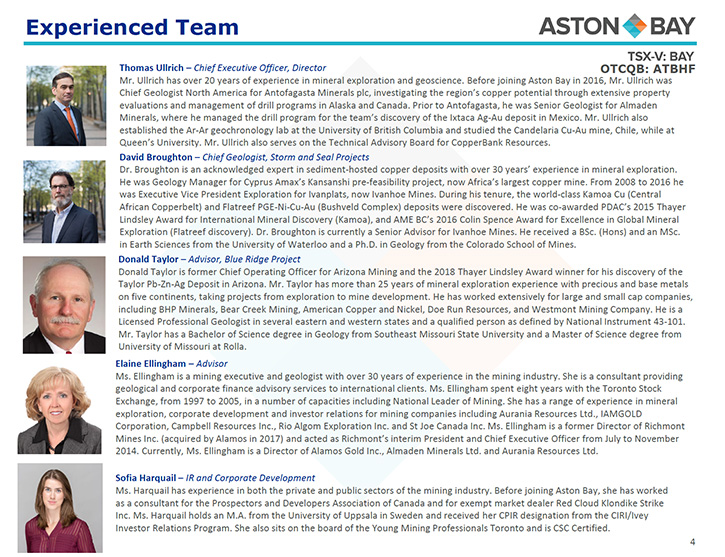 Dr. Allen Alper: That sounds very good. Could you tell our readers/investors a bit more about both projects? 
Thomas Ullrich: In Nunavut, we're looking for those great, large, high-grade sediment hosted, copper and zinc deposits, the kind of deposits Ivanhoe Mines has in the Congo, or in Africa, over the past few years. They can really be a company maker. What we see up in Nunavut, is checking all of the same boxes for the geologic model.
There's really no better stamp of approval than the fact that we've been able to attract somebody like David Broughton. Because he sees the same potential for discovery that he saw in the Congo. But in this case up in Canada, in Nunavut. 
Certainly we are far north up there. But there have been past producing mines in this area. We're just south of the past producing Polaris Mine. That was a lead-zinc mine that ran for 20 years, up until the '80s. Also just off to the East we have the old Nanisivik Mine that operated at the same time. These are mines that were able to operate year round, ship seasonally, and make a good bit of money doing it.
It is remote, but being on tide water up there it does offer you some significant advantages, particularly for these base metal mines. We know we can do it. It's been done before. It's just we are hoping we can make a discovery up there and show that we can do it again. 
In Virginia, there is a fantastic base metals potential. Don Taylor, originally a base metals guy, has made his name in zinc by having that big win with Arizona Mining. But he's one of BHP's former Managers for North America. He spent a good portion of his career, looking at the East Coast of the US, since the '90s.
Loved it so much that when he left BHP of North America and started his own company, a privately held company looking for gold and base metals in this area. His heart's in this one. Another stamp of approval, having somebody, with a proven record of discovery, start a company like this, to want to take it forward with us at Aston Bay now. 
It has impressive base metals potential in an under explored area. We think it is the right thing to get into this area, pick up a big land position with some good land holders, so that we can do the exploration that hasn't been done since the 1800s when the original mining, gold mining for the most part, was done in this area.
Dr. Allen Alper: In 2019, on the Buckingham Gold Project, you've gotten some very rich gold information from the drill programs. 
Thomas Ullrich: Yeah. Buckingham Gold is a new discovery in Virginia. A lot of the historic mining was done in a belt just a bit to the east of Buckingham Gold, called the Virginia Gold-Pyrite belt. A slightly different style of mineralization, but that's where pre-1850s historic work has been done. 
This new discovery is developed out of a regional BHP stream sampling program. This was back in the old days when the big companies still did the big, big regional projects. But in the '90s and early 2000s they were looking in the East Coast. One of the things they were doing was panning the streams for gold and also for indicators for base metals.
One thing that came out of that was a 15 kilometer (about a 10 mile) long trend of gold flakes in the pan in the stream sediment surveys, a pretty spectacular result. I can tell you as a geologist that's something you want to see. When you're seeing gold flakes, especially raggedy gold flakes in the pan, you're potentially not very far away from the source. Such a large anomaly gives you some confidence that there's, perhaps, a large system at play here.
BHP, in the end, was not interested in gold and BHP stepped out of exploration in North America completely. Don Taylor decided to come back in 2015, 2016, and was able to follow-up on that stream sediment anomaly. He came back and found visible gold in quartz, sticking out of the ground.
It's a very clean gold, just gold in quartz veins. There's a small amount of sulfide but no arsenic, no deleterious elements. Very nice to see! Some significant grade! Some of the select grab samples at the surface came back with over 20 ounces per ton. That's a significantly high grade. That's 700 grams per ton gold. 
Three quick drill holes were sunk into this. They all hit gold. We came back this past spring. We signed a deal with the land owner there. Just to give you an idea of how quickly we were able to operate in this jurisdiction, we signed a deal at the beginning of March, and by the end of March we were drilling.
That's because of the jurisdiction. The rules here are that if you own the private land or if you have a deal with the private land owner there's no permitting required for exploration or drilling. For us, as an exploration company, we don't have to wait six months or a year for BLM, Forestry permits, other negotiations. We can just go and drill right away. 
What we've done here on this Buckingham property, signing this small land package and drilling it quickly, shows you what we can do here. Not only did we drill quickly, we were able to get some significant results there. We drilled six drill holes, and all the drill holes hit gold. Some of the examples are over 35 grams over two meters. 24 grams over three and a half meters, including over 62 grams over 1.4 meters.
These are some pretty significant high-grade gold intercepts in the quartz veins. Not only did we find gold in the quartz veins we were also able to intersect some disseminated gold. This is gold, pyrite, sericite, silica. It's a bit lower grade, it's not the high ounce stuff but it is about two grams per ton on average over 40 meters core length. That can add significant ounces.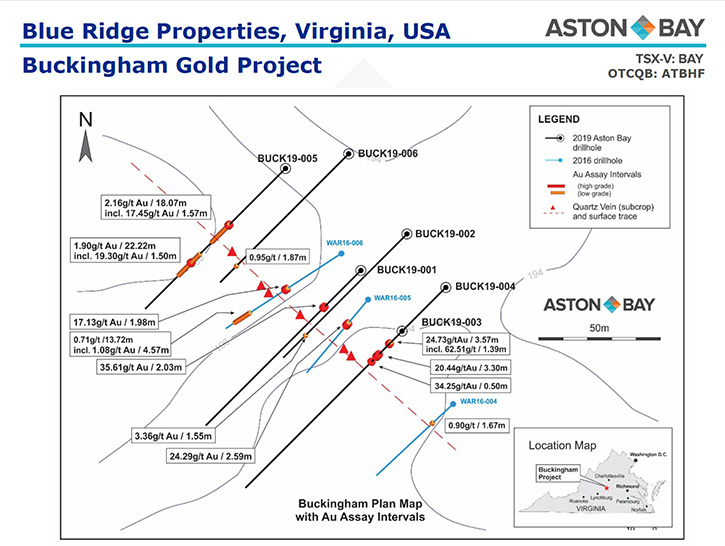 In the one drill hole, we hit two zones quite close together. Each of them about 20 meters in width, so we have the 40 meters there over two grams in disseminated style of mineralization. That's quite important because it could be similar of some of the mineralization styles that you see down at the Haile Gold Mine, in South Carolina, not far away. Just 200 miles to the southeast. A brand new style of mineralization, never really seen before in Virginia. A new discovery here. High grade. It just really begs to be followed up. Really that's what the next stage of the Company is all about.
Dr. Allen Alper: That sounds excellent. Could you tell our readers/investors a little bit about your share structure? 
Thomas Ullrich:We have about 130 million shares out. You always wish you had fewer shares out, but we are in the business of issuing shares to raise money to make a discovery. That's really where we are. Our share price the last week or so has been around seven cents, six and a half cents. That gives you a market cap of about eight or nine million Canadian. These are all Canadian dollars.
We're getting very low on cash, but that's by design. We recently, a few weeks ago, signed a major land deal with a large timber company. That now gives us a much larger land package to work. We're just at that stage where we can actually do some significant follow-up work. We're going to be raising some money to do that here in the near-term.
In terms of the rest of our share structure, we have a fairly large management insider component, 9%. I have a couple percent myself. All bought with cash in the market or in placements. Some very strong institutional shareholders. Mackenzie Investment Group here in Canada, Commodity Discovery Fund out of the Netherlands.
Those are our two biggest shareholders. J.P. Morgan in the UK is there as well. That's about 21% of our market. Not included in that, we have several other shareholders as well that we haven't included there. But a good example would be Rick Rule has mentioned us before on BNN and a few other shows. He's a fan of the Company and what we are doing. Great shareholders. 
The other thing is we actually have great volume now in Canada. Our average daily volume is over 600,000 shares a day, since January 1st. We do trade a lot in Canada on the TSX and the alternative exchanges up here. I think it's a great stock entry point right now. We're really looking to get back to doing the work. We think we have a lot of potential here. We can have a lot of good news flow coming forward with exploration, and drilling. Several rounds of drilling that we think will really do some good work and see if we can make a discovery here.
Dr. Allen Alper: Sounds very good! Could you tell our readers/investors, Tom, your next steps going forward? 
Thomas Ullrich: We will focus on gold in Virginia for the next several quarters, but we still love base metals. We love the fundamentals. The market has a bit of a shorter attention span. The market is not as keen on the base metals story right now. That is fine. We will keep our base metal stories, both in Nunavut and in Virginia. We have fantastic potential. We'll keep those stories in reserve. There are negligible holding costs for us. When the market turns for base metals we're happy to turn the taps back on, on those projects, and rev them back up. We'll have them ready and waiting. 
But for the near-term, we're going to be focusing our efforts on gold in Virginia. We have a new discovery that begs for a follow-up. We're eager to do that work. What that's going to consist of, over the next couple of months, is doing some fairly significant soil sampling program to follow-up on this, well at least, 4.5 or five kilometers of known mineralization or known anomalous soils and streams. We're going to follow it up with a much tighter grid.
To get some near-term drill targets, we'll do some IP geophysics. The drill program that we did this spring was actually designed not only to confirm the gold mineralization that we see at the surface, but also to get a better feel for what the orientation of those gold bearing bodies are in the subsurface. Now we want to run some geophysics over the known mineralization. We have spots where we have a very good idea of what the gold bearing structures look like.
Then we'll be able to step out from that, from where we don't have any surface mineralization, and see, "Okay, where do we see signatures?" Where do we see those same signatures in the subsurface, where we don't have any surface mineralization. That gives us some confidence that the gold bearing structures may continue. That's what we want to drill. We'll start that geophysics work next and get to drilling very quickly. We want to be drilling later this fall.
Dr. Allen Alper: That sounds very good. Tom, could you highlight why our readers/investors should consider investing in Aston Bay Holdings? 
Thomas Ullrich: We have a brand new discovery in Virginia for Aston Bay, a new focus for our Company. Looking at a new commodity with gold and in a new jurisdiction in the US, that hasn't seen any modern exploration, any of these modern methods of geochemistry, geophysics, even things like drilling. In the early 1800s, they didn't have those methods. They didn't have modern mining methods, things like pumping and extraction technologies – these didn't exist in the 1800s. We think there's a great potential that some of these old historic workings may have some long strike and downdip potential for more. 
Certainly with Aston Bay as a company, we're a very small market cap company right now. We're going out there to do the work to make a discovery. That's really how you get things to move. I think it's a great entry point, as far as a stock goes. We have a really experienced team looking in a great part of the world, where you can mine, where you can explore. We think it's a fantastic opportunity.
Dr. Allen Alper: That sounds excellent. We'll publish your press releases as they come out so our readers/investors can follow your progress. 
Thomas Ullrich: Thank you for interviewing Aston Bay for Metals News. 
Thomas Ullrich, Chief Executive Officer 
thomas.ullrich@astonbayholdings.com 
Telephone: (416) 456-3516