X-Terra Resources is a promising gold junior led by a promising young President & CEO, Michael Ferreira. The Company advertises on both Equity.Guru & Epstein Research. As such, it makes sense for me to post the following excerpt (without changes or comments) from a February 20th article by Greg Nolan. When it comes to Metals / Mining / Minerals, Greg is one of the best writers out there.
X-Terra Resources: market cap = C$8.3M.
(the following includes notes taken from a Feb. 18th interview with X-Terra's CEO, Mike Ferreira). [Mike F. interviewed by Greg Nolan] X-Terra is currently active on three key projects.
Drilling at their Grog Project in northeastern New Brunswick, where the target is a large intrusion-related epithermal system, recently returned the longest gold-bearing hit to date.
Lukas Kane's Feb. 17th take…
X-Terra (XTT.V) drill program intercepts 52.75 meters of 0.29 g/t gold at Grog in New Brunswick – stock halted
"The primary objective of XTT's drill program was to begin defining the geometry and extension of the Grog showing and to identify new peripheral mineralization zones toward the definition of a large epithermal gold system."
The Company's Northwest Project is also located along the McKenzie Gulch Fault and shares a common boundary with Grog.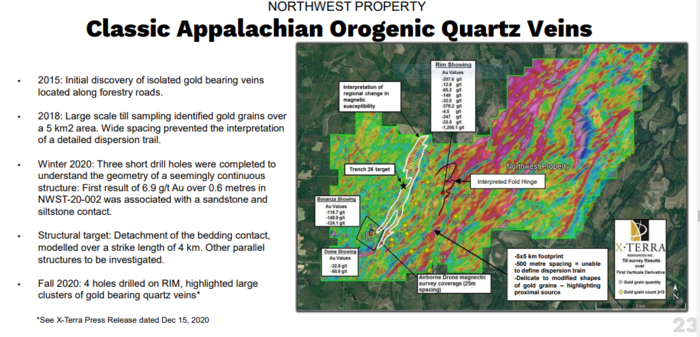 On February 18th, the Company lifted a trading halt (set the day prior) and dropped the following headline.
X-Terra Resources Drills Visible Gold on The Northwest Property
Here, the Company announced a new visible gold occurrence located 100 meters south of the original Rim Vein showing.
All seven holes from this recently concluded Phase-2 RIM campaign intercepted quartz vein zones associated with disseminated sulfides.
"A total of seven holes totalling 1,125 metres were completed to test the RIM vein extensions, and more importantly to test a kilometric magnetic structure interpreted as a fold hinge which parallels a regional north to north-east shear system within interlayered sandstone and siltstone of the Grog Brook formation. The drill program was widely spaced, covering approximately 700 metres along strike (north-south), and over 500 metres wide (east-west)."
"The first core observation from hole Rim-20-06 identified the presence of visible gold. This hole is located approximately 100 metres south and along strike to the initial RIM vein showing. As at the RIM showing, the gold bearing quartz vein is located at a sandstone-siltstone contact."
"All holes have intersected intervals of finely disseminated sulfides associated with sporadic to abundant quartz veining and quartz filled stockworks and located near brittle faults. X-Terra notes that hole RIM-20-08 cut a series mineralized mafic dykes associated with a strong chlorite alteration over three intervals of 11,6 and 15 metres (32 metres in total)."
In speaking with X-Terra's CEO, Mike Ferreira, shortly after this news dropped, I learned that these visual assays were based on the first sections of core—some 30 odd boxes—delivered to the Company's core shack. There were still another 90 boxes that had yet to be opened and inspected by the Company's Qualified Person, Jeannot Théberge.
Any new (material) visual observations will be reported in a timely manner.
The goal of this drill program is to follow up on previous drill results and bulk sampling done on the RIM vein where a 5 to 10 metre cluster of gold bearing veins were intersected at approximately 50 metres under the RIM vein surface showing. The first drill program, which was comprised of four holes totalling 440 metres, was completed in the fourth quarter of 2020. In addition, the bench scale bulk sample on 129 kilograms and metallurgical recovery test done on the vein material at surface returned an average grade of 79 g/t Au (see X-Terra press release, December 15, 2020).

The RIM high grade vein system is now strongly believed to be associated with a kilometric fold hinge developed along a regional north to north-east shear system which is developed in sediments. A previous till survey conducted by X-Terra in the fall of 2018 highlighted a series of positive results located approximately 1.0 to 1.5 kilometres south of the RIM vein system. There is a strong belief that the vein pattern is controlled by lithological contrasts, folding and possible minor faults. The new detailed magnetic survey is an excellent illustration that provides X-Terra's geological team with the ability to detect and interpret the gold bearing structural pattern.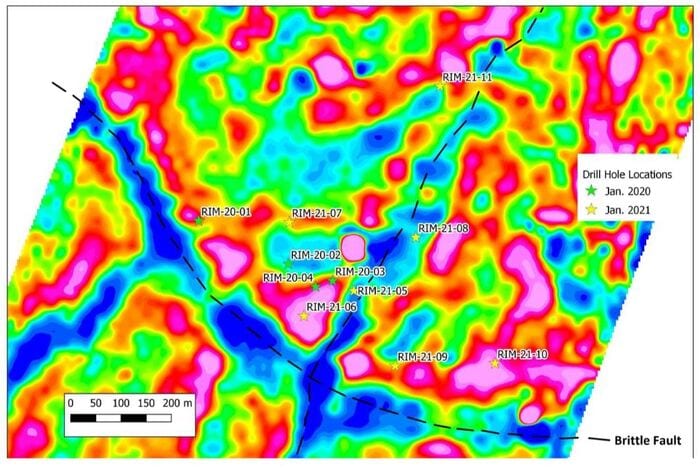 CEO Ferreira:
"This program served to test the fold hinge at the Rim vein target, which is believed to be controlling the high grade mineralization that has yielded grades up to 1,205 g/t Au at surface (See X-Terra press release dated December 5, 2018). To discover visible gold in the early stages of this drill program validates our exploration methodology and is an extremely exciting development, not only for X-Terra but also the province of New Brunswick."
In an effort to improve on the timeliness and continuity of newsflow, the Company is directing future business to a new assay lab. Turnaround times are expected to be roughly 20 business days (let's call it 25 to 30 for shit-happens). This will be a vast improvement over the 2.5-month wait they were forced to endure prior.
The Company's wholly-owned Troilus East property, located along the (underexplored) Frotet-Evans greenstone belt in northern Québec, is another project that will see an acceleration in activity shortly.
Troilus East shares a common border with Troilus Gold's (TLG.T) 8.11 million ounces AuEq deposit. Here, X-Terra has established three unique geological grids.
Note the proximity of X-Terra's highly prospective ground to this 8.11M AuEq resource.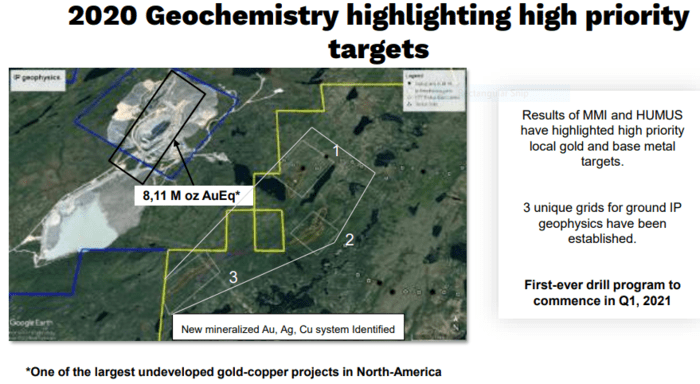 We're a few weeks away from the start of a geophysical campaign—ground IP surveys—along these three grids at Troilus East. This will mark a final round of exploration that will help refine and prioritize targets for an upcoming drill program.
Drilling, as you well know, is an expensive proposition. The more layers of good science you lay down ahead of mobilizing a drill rig—the greater the correlation between geophysics and geochemistry—the better the chances of tagging a discovery.
Troilus East encompasses 92 square kilometers of parallel geology— the same geological characteristics—to Troilus Gold's 8.11M AuEq deposit. That's 92 square kilometers of highly prospective terrain that has never received a proper probe with the drill bit.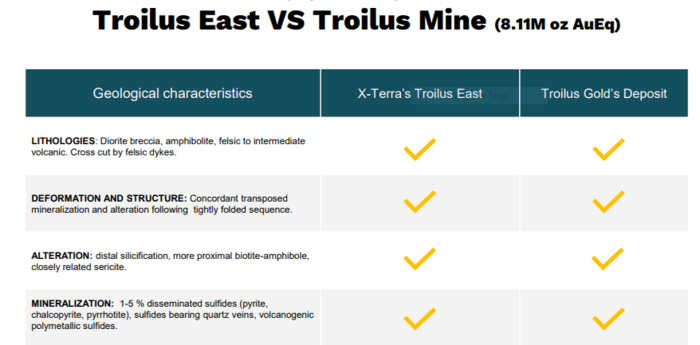 CEO Fierra is currently reaching out to local drilling contractors and expects to be drilling by early April (a conservative estimate, I believe).
We stand to watch.
—Greg Nolan
Full disclosure: X-Terra is an Equity Guru client.
Greg Nolan is a writer and investor based in Victoria BC. Having developed an appreciation for the outdoors at a very early age, he began an extensive career in the resource sector, working with over a dozen reforestation companies before stepping out on his own. He found a niche as a contractor, running high-production crews, specializing in logistically challenging helicopter projects on the West Coast of Vancouver Island and the remote coastal inlets of mainland B.C. His company, Rainforest Silviculture, was one of the most highly regarded reforestation companies in the country. A manuscript he wrote detailing the first decade of his career operating in some of the more wild and untamed locales in Western Canada was published in the summer of 2019 by Harbour Publishing. Greg has been following resource stocks since his teens. Undervalued assets, new discoveries, and 'endgames' are his focus and passion.